From Wednesday 30 June 2021 - 08:00
To Tuesday 06 July 2021 - 17:00

Mallow AC Virtual 5k, 10k and 10 Mile 2021
Mallow....or Wherever YOU are
Wednesday 30th June 2021


Instead of the In-Person Mallow 10, Mallow AC are holding a Virtual 10 Mile, along with 5k and 10k. Do any one ....or do them all!

Organised and hosted by Mallow AC
Mallow AC Announcement - Monday May 17th
Co-op Superstores Mallow 10 is going virtual
This years Co-op Superstores Mallow 10 is going virtual. After missing out on last years event we are keen to continue our event by going with a virtual event for 2021.
We are delighted to partner with Pieta House and a donation will be made to this very worthy cause with every entry.
Along with our traditional 10 mile distance we are delighted to offer 5k and 10k options or if you want run all three! There is something for everyone. The aim of the event is to attract participants of all ages and abilities and you can walk, jog or run the distances on offer.
Results can be added from the 30th June to 6th July on the MyRunResults.com results portal.
Mallow AC would like to thank all those who have supported the event over the year's and wish you all the best for 2021. We look forward to welcoming you back to Mallow in 2022 and cannot wait to see you all running through the town once again.
Best of luck with your training
Register for Virtual Mallow 10 2021
Results of Mallow 10 2019

Results of Mallow 10 2018


Mallow AC Facebook Page - Closed Group
Mallow 10 Mile Road Race Website
Mallow 10 Mile Road Race Facebook Page
Results of Athletics Ireland Registered Events - April 2014 - May 2016 (on Old Cork Athletics website)
Results of Athletics Ireland Registered Events - May 2016 to date
Race Calendar / Fixtures List - Athletics Ireland Registered Events



Event Details
General information on Mallow 10 Race website#
Registration for Mallow 10 2021
Registration details for the Mallow 10 2021 will be posted at a later date


Access & Parking

Race HQ is at Mallow Youth Centre, There will be signs on all roads into Mallow

Mallow Youth Centre - Mallow 10 Race HQ
Parking

Parking is available for free in any of the public car parks in the town, or you can park on the streets without charge as it is a Sunday.

There is no parking available at the race HQ, or at the start/finish areas.

Toilets will be available at the start and also at the race HQ

Race finish is a five minute walk back to the youth centre

Refreshments (Tea, Sandwiches etc.) will be available in the hall, after the race

There are showers in the Youth Centre but usually limited and busy. The swimming pool beside the youth centre will allow anybody who ran the race use their shower facilities for a charge of €3. Some people found this very handy in years gone by. One can also go for a swim.
The Race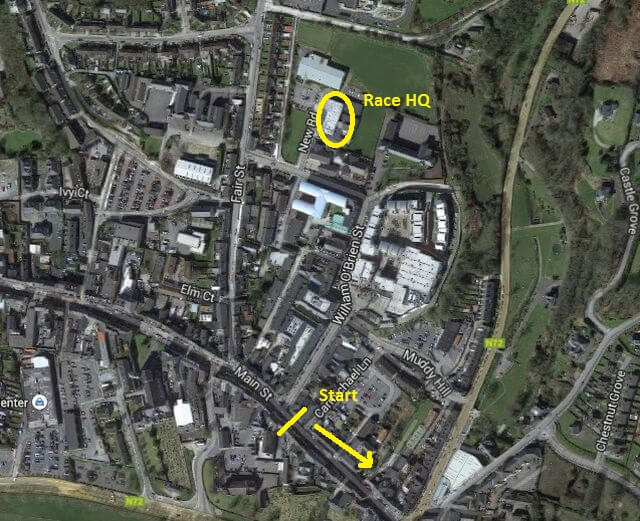 The race will start at 12:30 sharp, do not be late.

The race will be using chip Timing. The chip is attached to your number.
You do not need to hand back yout number after the race.
Your race number should always be worn on the front, on your singlet/t-shirt, not on your shorts. This will facilitate the reading of the chip at the finish line thus giving you an accurate time.
Under no circumstances may you transfer your race number.
If this occurs you will be denied entry in the future.

Pacers
Pacers at 5 minutes intervals, from 60 minutes to 90 minutes
2 Water Stations (bottles) on the course (3.5miles and 7 miles aprox)
Water/Chocolate at finish
Please proceed immediately through the finish chute where you will receive your 'goody bag' (including your race buff)

Prizes
Top 5 and First three in all categories

Race Start



Starting Corral

When you arrive to the race start, you will see the starting corral. The corral will be quite long, so please find your appropriate area in the corral. There will be a team of stewards at the start area who will be more then happy to help you find your corral position. There will also be signs along the corral, with estimated finish times. Remember that your pacers will also be in the starting corral. Look out for the balloons. This should give you an indication of where you should position yourself.
Smart Start
It is for the benefit of everybody if you follow the times indicated. It gets very busy once the clock starts, and it can have an effect on everybody's times if you are in the wrong zone. If you are targeting a Sub 85 run, then it could hinder you, if you are up at the sub 65 section. Nobody likes to start a race with people running up their back. If you locate yourself in the 85-minute section, then you are running with like-minded people who will all help you achieve your goal.
Mallow 10 - Race Start Area

Start Location





Mallow 10 Finish Location
Mallow 10 - Finish Area

Route Back to Youth Centre

Mallow 10 - Race Finish Area Map
Route
Mallow 10 - Course Map



Mallow 10 Course Elevation Profile

Mallow 10 Mile Road Race - Course Elevation Profile