Sunday 17 February 2019, 11:00

31st Tommy Ryan Memorial Carrigaline 5 2019

Carrigaline

11:00am, Sunday Feb 17th 2019
Organised and hosted by Eagle AC
This event is run under an Athletics Ireland permit/licence
This course was measured by John Quigley AIMS/IAAF Grade A Measurer


Carrigaline 5 Flyer 2019
The Edge Sports Shop, sponsors of the Eagle AC Carrigaline 5
Registration
Registration is in Carrigaline Community Centre, from 9:30am on the day.


Pre-Registration
You can also PREREGISTER, and avoid the queues on the day.
Just collect your number at the pre-entry desk in the hall.
Sponsorship
The event is sponsored by The Edge Sports Shop
Charity Donation
€2 from every entry will be donated to Carrigaline Meals-on-Wheels, and Carrigaline Community Drugs Initiative.
Location
Carrigaline, Co Cork
Eagle AC Carrigaline 5 Road Race - Location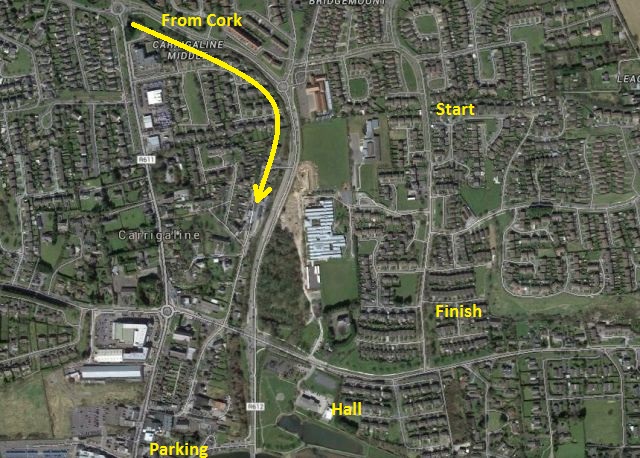 Location of Parking & Registration

The Main Parking area is adjacent to the Community Centre in Carrigaline. It will be signposted, with stewards directing race traffic. Race HQ, Carrigaline Community Centre is just a short walk from the car park.


Route
Note: Due to ongoing roadworks on the Coolmore-Shanbally Grotto road, from 2 to 2.5 Miles, the 2018 course has been altered. Much of the course is the same as in previous years, however the start and finish areas have changed, and a new section, largely around the Novartis Pharmaceutical plant, has been introduced, as a 'work around'.
The new start is close to the Church of Ireland church, on the Currabinny Road, at approx. 0.75 Miles on the regular course.
The 2018 finish is at approx. 4.5 Miles on the 2017 course.


The Start is approx. half a Mile from the hall, will the finish is approx. 0.25 Miles from the hall


Mile 1: Largely downhill - a Fast Mile!

Mile 2: Largely flat, with a few short drags.

Mile 3: Long drag, with a short drop before climbing again to the 3 mile mark.

Mile 4: Starts with a good downslope section of over half a mile, making for good running. After the turn, there is another climb, followed by yet another fast downslope section.

Mile 5: The downslope section continues for approx. 1/4 mile and is followed by the final hill. After this it levels out, until entering Waterpark Estate again. Waterpark is largely concrete, but downslope all the way.

Route Elevation Profile

Eagle AC Carrigaline 5 Mile Road Race - Course Elevation Profile