Sunday 18 March 2018, 11:00

Cork Athletics County Road Championships 2019
Castlelyons
11am, Monday March 18th 2019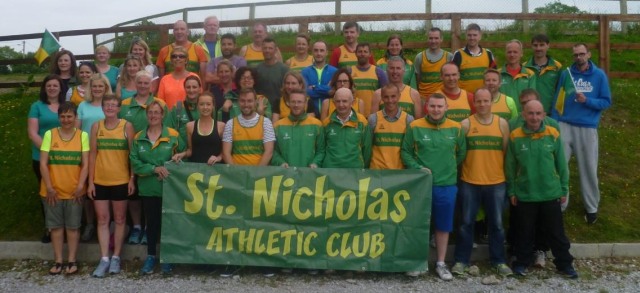 Cork Athletics County Road Championships 2019 are organised and hosted by St Nicholas AC, on behalf of Cork Athletics
Entry Forms


Novice Road Championship Entry Form

Masters Road Championship Entry Form


Closing Date for Entries: 6pm, Thursday March 14th

Previous Results
2014 Results (PDF file)
Castlelyons Location
Castlelyons General Location
Castlelyons directions from M8
Castlelyons directions from Rathcormac
Race Schedule
The event comprises of Men's and Women's Novice and Masters Championships. As this is a Championship event, there will be separate Men's and Women's races, with Novice and Masters Championships being challenged for in both. Both races will take place over 4 Miles.
RACE HQ
Entries
The event is open to Novice and Masters men & women. All competitors MUST be registered with Athletics Ireland, prior to the event. The results of any unregistered athlete will not be considered in the award of championship medals or titles. Entry fees MUST be paid BEFORE race day.
County Road Competition Bye-Laws



Categories
Masters categories start at 35 years (on day of competition), and continue upwards in 5 year blocks. There are team categories at 35 and 50. An athlete may be declared in a lower grade, for team purposes, and be eligible in the appropriate age grouping; e.g. a 56 year old individual competing in the F55 or M55 category, can be declared on a F35/M35 team (but cannot also score on another team)



Incorrect Age Categories
NB: It is the responsibility of each individual club to ensure that their athletes are emntered in the appropriate category. Please check that you, or your athletes, have been entered in the correct age category. Errors in entries CANNOT be corrected after the event.
Course Map
Course Map on MapMyRun
Course Elevation Profile