38th Annual Echo Women's Mini-Marathon
Centre Park Road, Cork
13:00 (1pm) Sunday, September 22nd 2019

This event is organised and hosted by Cork Athletics
This course was measured by John Quigley, AIMS/IAAF Grade 'A' Measurer


Enter 38th Echo Cork Women's Mini-Marathon
Echo Mini-Marathon event Facebook page
Results of Athletics Ireland Registered Events - April 2014 - May 2016 (on Old Cork Athletics website)
Results of Athletics Ireland Registered Events - May 2016 to date
The Only Comprehensive Calendar of Registered Athletics Ireland Events in Cork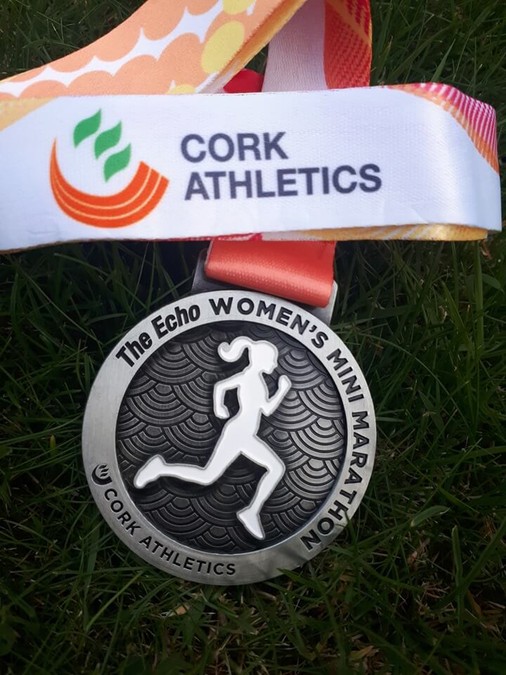 Finishers Medal 2019
Chip Timing

Chip timing has been used for the event for the past few years, with great success. This means that everyone gets their own individual finish time.

There will be timing gantries at the start and finish lines, so everyone's own individual time begins only when they pass the gantry on Centre Park Road, and finishes when they pass the gantry on Monaghan Road, adjacent to Kennedy Park.

Enter Echo Women's Mini-Marathon
Echo Women's Mini Marathon
The Echo Women's Mini Marathon is the biggest event of its kind in Munster. It has grown from its beginnings in 1980, with only 300 participants, to over 10,000 participants in recent years.
Whether you are a seasoned runner, on a fitness mission, or are joining friends to enjoy the walk, the Mini Marathon is suitable for everyone, with women choosing to run, jog or walk depending on their fitness level.
Each year, several hundred thousand euro is raised for local, national and international charities and organisations. Each year, approx. 1 Million euro has been raised for charity by participants, over the last three decades, with the participants themselves deciding which charity they will support. The Echo Women's Mini Marathon has become a key event on every charity's fundraising calendar. So, why not come and join us on September 16th, we can promise you a fun day out!


Charities - If your charity isn't listed on the Charity List, why not register? It's absolutely free to register, and it's a great way to both ensure that your charity is highlighted, and also a great way of recruiting fundraisers

Sponsors:

The Flagship Sponsor for the past 38 years has been The Echo


This year the other main sponsors are Tesco

Run, jog or walk 4 miles for your chosen charity or just for fun! Charities are asked to ensure that all participants fund raising on their behalf are registered to take part in the event. All charitable funds raised by participants are payable directly to the charity concerned. If you would like to participate to raise funds for a particular charity, please contact the charity of your choice directly, regarding sponsorship cards, t-shirts etc.
Please remember that even if you have a sponsorship card from your chosen charity, you must officially register with the Echo Women's Mini Marathon and wear your race number on race day.

All profits from the Echo Women's Mini Marathon go directly to Cork County Board of Athletics Ireland. The proceeds are used to develop, promote and foster athletics in Cork. Cork Athletics is a not-for-profit, entirely voluntary, organisation, and is a Registered Sports Body. All race stewards and officials are unpaid volunteers, drawn largely from the athletic community.
For insurance purposes, all participants must officially register to take part in the Echo Women's Mini Marathon.
Email: This email address is being protected from spambots. You need JavaScript enabled to view it.
Postal Entries
Postal Entries - Postal entries MUST include a stamped, self addressed, envelope
The PDF entry form will be available for download shortly
Mini-Marathon Entry Desk
The Mini-Marathon Entry Desk will open in September. The Mini-Marathon Entry Desk is in Debenham's Department Store, Merchant's Quay Shopping Centre. The desk will be located upstairs, adjacent to the cafeteria.

Prizes
There are prizes for the first 10 athletes home. These prizes will be presented on the day.
In addition there are three (3) prizes in each category, as per the race flyer. The category prizes will be posted out to the winners, after the results have been finalised.
Goodie Bag and Medallion
A goodie bag and finisher's medallion will be given to all registered finishers, on production of their official race number.

NO RACE NUMBER = NO ENTRY TO THE RACE START AREA & NO MEDAL
Results
A complete Mini-Marathon results and picture pull-out souvenier section will appear in the Echo, a day or two (TBA) after the event. The results will also be available online, on MyRunResults and Cork Athletics websites.
Safety
For Health & Safety reasons:
• Buggies/prams are not permitted in the race
• No dogs in the race (except Guide Dogs)
• Children under 8 years of age will not be permitted to participate
• Please note earphones, iPods etc. are not recommended. Please leave your music player at home and enjoy the special atmosphere, ambiance and banter of the day.
Stewards and Officials - Urgently Required
Approx. 130 stewards and officials are required to manage this event. If you are available, even for a short period, please contact Chief Steward, Pat Walsh.
This event helps fund many of Cork Athletic's activities at all levels, from under age to masters. 130 stewards and officials translates to approx 3 people from each Cork Athletics club.....please ensure that your club is represented.
Medical
Medical services will be supplied by the Cork Red Cross, St John's Ambulance Brigade, Cork Civil Defence, and The Order of Malta. These services will be deployed in the start, finish areas and along the route. A medical doctor will also be on site.
Insurance and Race Licence/Permit
This event carries a race permit/licence from Athletics Ireland and is covered by Athletics Irelands insurance policy. In accordance with Athletics Ireland regulations, a medical plan is in place for this event.
Baggage
There is no baggage area provided.
Route Map
See Race Information and FAQ Page for more detailed information, including course overview on Video
Mini Marathon Route Map (Echo website)
Course Elevation Profile
Runners
All runners will line up on Centre Park Road, where, in the past, the elite runners lined up. Wheelchair participants will also assemble here. If you do NOT have a runners number, you will not be permitted through to this area.
Walkers
Walkers will, as in previous years, approach the start line via Marina Walk and Mill Road


Wheelchair Start
The Wheelchair Participants will start at 12:45pm Sharp
Kennedy Park, Cork (close to junction of Victoria Road & Monahan Road)
Portaloos
There will be Portaloos in the following locations:
* Entrance to Start Area, on Victoria Road
* In the Holding Zone, on Mill Road
* Close to the Start Area
* In Blackrock Village
* At Finish Area, including on Monaghan Road
* Wheelchair Portaloos: There will be wheelchair accessible portaloos in the Wheelchair Start area, Blackrock Village and the finish area.
Water
Water will be available in the finish area only. For environmental, and health and safety reasons, water will not be supplied along the route.
Music
There will be music at both the start and finish areas.

Race Number / Chip Timing

Chip Timing. This year chip timing is being introduced to the event for the first time. The timing chip will be contained within your race number.
Do NOT bend, fold, tear or otherwise mutilate your number, or put it in your pocket, bag etc.
The chip recorder at the finish line will not pick up your number unless it is clear and visible.
Please also wear your number on your FRONT. This helps identify you in photographs and also indicates that you are an official participant. Please do NOT put your number on your back.
There will be no access to the start areas without a race number.
After finishing, you will only receive your finishers medal and goodie bag if you have your race number.