Saturday 20 January 2018, 10:00 - 16:00

| Contact | Location | Distance | Type | Championship | Permit | Measured |
| --- | --- | --- | --- | --- | --- | --- |
| Lilly-Ann O'Hora - Regional Development Officer 0858060440 | Conna Sports Complex, Conna, Co. Cork | N/A | Coaching | No | Yes | N/A |
Athletics Leader Coach Education Course
Conna Sports Complex, Conna, Co. Cork
Saturday January 20th 2018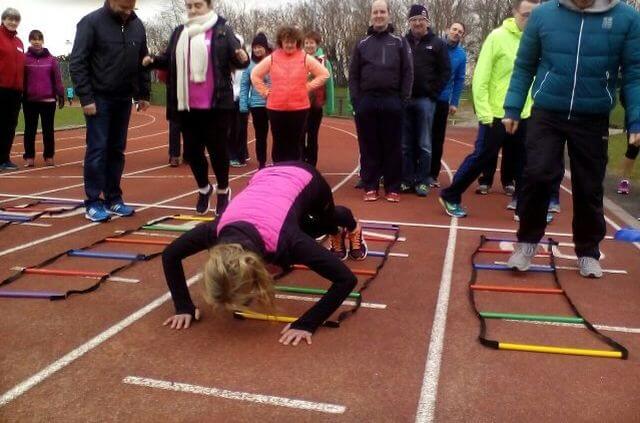 Athletics Leader Course, CIT, February 2016

An Athletics Leader Coach Education Course will be held in Conna Sports Complex, Conna, Co. Cork, on Saturday January 20th 2018. The course is being held by request of St. Catherine's AC, who are being given priority booking. Coaches from other clubs local to the area have also been invited. There are a limited number of places available on this course for other coaches.
Enquiries: This email address is being protected from spambots. You need JavaScript enabled to view it. Regional Development Officer - 0858060440
Athletics Leader Program
Aim
Athletics Leader focuses on introducing the fundamentals of athletic movement to children.

The aim of the Athletics Leader course is to provide teachers, parents and club members with the skills and tools to manage and lead an Athletics Programme in their club or school.

The content focuses on organising athletics games and activities for young children. It is aimed at those who want to coach or assist in their local club or school.

The course focuses primarily on developing athleticism through games designed to improve agility, balance and co-ordination and is very practical in nature.
Content
The content for this course includes;

Group coaching skills and identifying ways to make the coaching sessions fun

The use of small hurdles and obstacles, running, jumping, throwing and running

Games to provide fun in developing fitness

Developing an awareness of the growing child and the implications on fitness activities

Games to develop speed and reaction, using acceleration and change of direction

The ethics of coaching including topics such as winning vs. involvement and recognising the importance of individual improvement

Practical sessions on running and agility, balance, jumping, co-ordination and throwing and catching

Planning a session and a programme
Duration:
This is a course over 1 day (8 hours)
Entry Requirements:
Athletics Leader is open to all those who are 16 years or over
Assessment/ Qualification:
There is no exam.
Cost:
€60, Included in the fee for this course is the Athletics Leader manual full of fun games and activities for use with young athletes