Friday 18 May 2018, 20:00

Ballymacoda 4 Mile Road Race 2018
Ballymacoda

8pm, Friday May 18th 2018


This event is run under an Athletics Ireland permit/licence
Organised and hosted by Kilcredan NS Parents Association, in association with Youghal AC

This course was measured by John Walshe, Athletics Ireland National Grade Measurer
Note: This race replaces the previous annual Kilcredcan 5k
Ballymacoda 4 Mile Road Race Results - May 2018
Youghal AC Facebook page (Closed group - join group to message & comment)
Results of Athletics Ireland Registered Events - April 2014 - May 2016 (on Old Cork Athletics website)
Results of Athletics Ireland Registered Events - May 2016 to date
Race Calendar / Fixtures List - Athletics Ireland Registered Events
Pat and Louise O'Donovan of Safetytechfire Ltd, are sponsoring this years race
Help Wanted!
The race organisers have asked for assistance in various areas such as stewards, catering and spot prizes. All contributions of any kind will be greatly appreciated. If you are in a position to help in any of these areas please contact Kilcredan school, or text or phone 086 8563762




Pre-Registration & Course 'Practice Run'
If you'd like to do a practice run on the course, you can pre-register and collect your number and timing chip, on Tuesday night (16th), at 7:00pm, ahead of Fridays race. The practice run will take place at 7:15pm, with a cuppa in the hall afterwards.
Location
From Cork: Take R633 on Cork side of Castlemartyr - the route will be sign-posted
From Youghal: Take R633 - the route will be sign-posted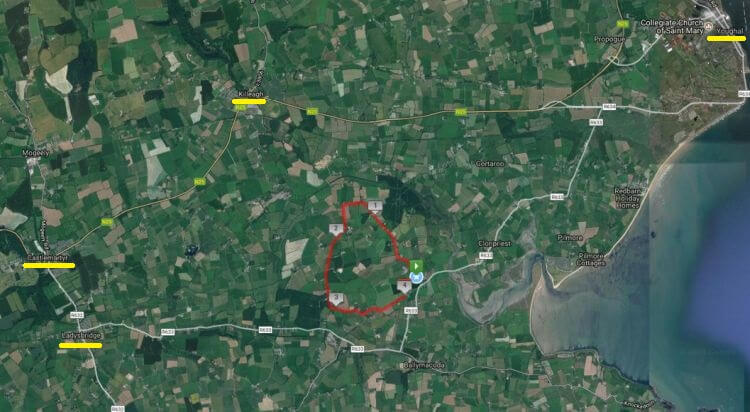 Route
Course Elevation Profile