Looking Back - 25 Years of BLE in Cork - Chapter 8 - Personalities
LOOKING BACK - 25 Years of BLE in Cork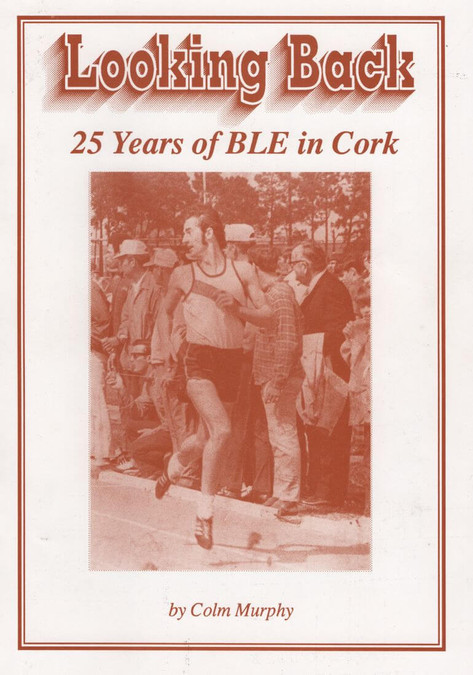 Chapter 8 -

Personalities

The profiles of a number of personalities from the world of athletics are covered in the following pages. Athletes, coaches and administrators are all included. However the list is not comprehensive, and there are many others that ought to be mentioned; for their absence, apologies.
TERRIE HORGAN


Terri Horgan - Mallow AC & DCH AC
Photo from Irish Runner Vol 10 No 2, March-April 1990

In 1974, at the age of seven, TERRIE HORGAN ran her first race in the local Community Games, in Mallow. However it was not until 1979 that she joined Mallow AC, and there was coached by Malachy Downey. Terrie remained with Mallow AC until 1989. During that time she progressed very slowly up the age groups. It was in 1985 that she received her first senior International, and she has been on the National Irish senior team since.


From 1985 onwards, Terrie had set her sights on breaking the Irish Senior long jump record, which then stood at 6.17 metres. She was jumping in and around the six metre mark for a couple of years. Then, on a wet and cold night, at the Cork City Sports, in 1988, the goal was achieved, as Terrie broke the sand at 6.21 metres. A fortnight later, at the National Championships in Santry, she extended it further - to 6.27 metres.

Terri Horgan Sets Irish Record at 1988 Cork City Sports



Terrie had by now spent a year studying Business Studies Recreation and Leisure, at Waterford Regional Technical College. She returned to College in the September, to begin again the long haul of lectures, practicals and training. The goal for 1989 was to qualify for the World Student Games. But disaster struck in early May, when jumping at the College Sports - she injured the jumping foot on 'take off', 'real damage' was done as she had 'torn' the ligaments in the ankle.

Terrie was out of training, from early May until late June, and the preparation for the National Championships in July was minimal. However she was still selected on the Irish Team for the Europa Cup, in Santry. There she was as surprised as anybody else when she broke the National Record with a leap of 6.39 metres to win. Terrie made the team for the World Student Games, and this was one of the highlights of her very brief athletics career to date.

At the end of 1989, Terrie moved to Dublin to work, joining Dublin City Harriers. The 1990 season started quite well - she made the Olympic Panel, and had come within a centimetre of her own Irish Record. She was now under the guidance of Oliver Scully, and was to progress steadily to achieve the Olympic Qualifying standard for Barcelona.

But neither had expected Terrie to run into the problems that occurred in 1991. In January of that year, she complained of a knee problem, and it was not until September that the medical team were able to rectify it. It required having a minor operation on her knee, to remove a 'crust' which had formed on the side of the knee cap, and was preventing her from straightening the knee all season.

The planned progression had been ruined, and she suffered one of her worst seasons to date, being so bad that she could not even bear to be near a running track. She was out for eight weeks after the operation which meant that all the athletes in the group that she trained with had commenced their training - it was such a long road back.

But Terrie made it, and 1992 proved to be the best season date; a new Irish record of 6.48 metres, and a personal best, with a 'windy' 6.51 metres - just four centimetres off the Olympic Standard. She was back on target of achieving the athlete's dream to compete at the Olympic Games. But, to her great disappointment, she was not selected and had to watch them from home, like most of the general public!

The plan for the next three years is to attain the relevent standards for each major Championship, and use them as platform for Atlanta. All this is being supervised by Bruce Longden - coach to Sally Gunnell, winner of the gold medal at the Barcelona Olympics for the 400m Hurdles.

This will mean of course extending her Irish record to greater lengths. However she has been selected for the 1993 World Championships, and so the first 'goal' has been achieved.
Mick O'Flynn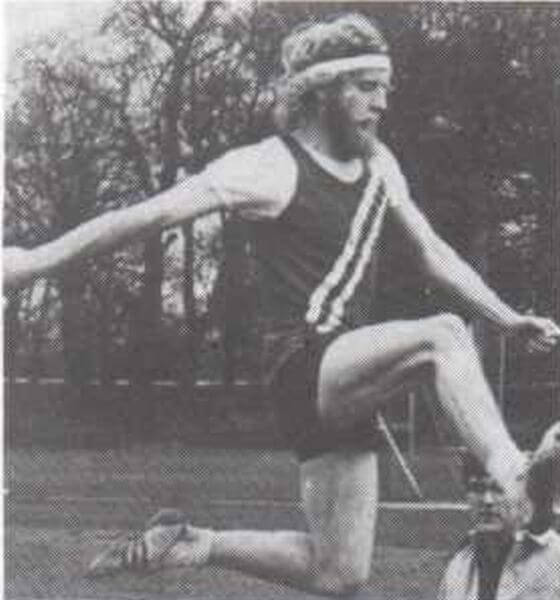 It is strange sometimes the way small things can influence what we do with our lives. Certainly MICK O'FLYNN's sporting life took a very definite turn, thanks to his English teacher, in Leaving Certificate year of 1965, at Colaiste Chriost Rí.

Mick had been making steady progress with the football team in school, and was part of the very successful Nemo Rangers under-age teams. Athletics at that time was just the occasional run during the summer at some local sports - although he was sprint champion at the Primary Schools back in 1960.

Dick Henchion, the quite spoken English teacher for the Leaving Cert. group of 1965 at the school, got a group together forregular winter training, and there was participation in cross-country, and then preparation for the South Munster Scools Track and Field.

Mick was going well over quarters at the time, and had high hopes of doing well in this event. In order to try and win the overall trophy, Dick Henchion got everyone to 'fill-in' in a second event. The event Mick picked was the hop, step and jump
- it was a decision unimportant at the time, but it shaped his athletic's career over the next 25 years!

At those South Munster Championships the triple jump was in progress when the heats of the 400 were called. Mick was doing well in the triple, so a quick decision was made - one that made him stay and win the triple, leaving Jim Archer to go all out and win the 400. As it transpired, Mick won, Jim won, and the all round trophy was won for Chriost Rí - for the first time. Mick won the Munster Schools and was fourth in the All-Ireland, in Galway. The bug had bitten! That Summer he joined the newly formed club of Fr. Mathew AC, where Fr Nessan was at the helm. Mick remembers going out to Ovens, one summer evening, for the Cork County Under 18 Championships and won the 100, 200, 400, long and triple jump - a feat he was to repeat a few years later, at the U.C.C. inter-faculty sports. In July 1965, Mick came third in the All Ireland Juniors in Clogher Road, Dublin - the highlight of that day was doing the 'ton' with coach Finbarr Callanan in the hired Zephyr on the
read to Dublin!

It 1966, Mick won his first senior sports prize when, with the aid of a 4 foot handicap, he won the triple jump at the famous Banteer Sports. The Open Sport season around the country in those years were great, and every Sunday everyone looked
forward to the outings at Skibbereen, Bantry, Midleton, Carrigaline, Bweeing, Blarney or the Convamore grounds on the banks of the Blackwater. There you could test your skill on the track, and then cool off by trying the greasy pole
suitably placed over the river!

Those late 'sixties' were great years for his mother, for, although Mick never matched Frank and Bernard in beating Bill Nestor to the gun, or never matched the consistency of Pat O'Shea in the high jump, or Pat O'Riordan in the distance events, he still brought home his share of household goods.

On the National scene, Mick finished third in the Irish Senior, and brought his personal best from 13.82 to 14.03. Riobard O'Dwyer of Ardgroom was a great help to him at this time.

At the Cork County Championships the following year - on a Friday night in the Mardyke, with a crowd of 5,000 people at the meeting he had a double - winning the triple jump with 14,30 and the long jump with 7,08, two personal bests. The Munster Championships - triple jump 14.17, and 440 yards Hurdles followed on, and, in July, he surprised both himself and everyone else by winning the Irish title, with a leap of 14.55, yet another personal best! The following day he finished second to Cyril O'Regan of Waterford, in the Long Jump.

In 1969, when he finished his studies at UCC, Mick moved to Kilkenny, and, in 1970, to London, where he concentrated on soccer. He was 'capped' for the Irish Universities in 1969, and when, on returning to Kilkenny in 1971, there was a season of senior soccer with St. Patricks Athletic in the League of Ireland. A broken leg in 1973, in a soccer match, focussed his attention on athletics again, and the following winter saw his first serious winter's training. As a result, he finished second to Sean Power in the All Ireland's, with a new personal best of 14.73. In August, he won his first athletics 'cap' - Vs Portugal.
Later that month, in Iceland, he won the Triple Jump, with a personal best of 49'7" - 15.10 metres.

The following years saw even greater successes, which very briefly included winning the 1975 National long and triple jump titles, and, in 1976, there was a personal best of 15.12 metres - twice, in Rieti, Italy & in Limerick. An International until 1982, Mick had the honour of captaining the squad in 1980, and in 1982. His four triple jump titles won successively from 1977 to 1980, and the fact that, between 1974 to 1982 inclusive, he was either first or second each year, in the National Championships singles him out as among the top athletes in Ireland over past quarter century.

Mick's greatest regret was coming so close, on a number occasions, to the magical 50 foot barrier - 15.24 metres - without breaking it. The lack of competition, particularly in 1976, when he had only three triple jump competitions in the year but was yet over 49 feet feet in all three. Yet the highlights are many in a long and distinguished career - winning the National League with Leevale in 1974, 1975 and 1976. Mick has also a most unusual distinction, that of competing in the Cork City Sports over a 25 year - period - debut in a schools relay in 1961 to his final appearance in 1986, the year of the Russians!

Mick enjoyed many a tussle in his 'early' years with another Cork triple jump legend - Sean O'Dwyer. He was also coached by RIOBARD O'DWYER, the older of the two brothers and another legend in this sphere of jumping.


Related Articles

Kilkenny's fitness in hands of a Corkman - Tom O'Riordan's Irish Independent article, from September 1998

The PM O'Sullivan Interview: Jumping the Great Divide - PM O'Sullivan's Irish Examiner article, from July 2019
Editorial comment: This PM O'Sullivan's article is a great read!


RIOBÁRD O'DWYER
(Following from previous personality, above) Mick (O'Flynn) enjoyed many a tussle in his 'early' years with another Cork triple jump legend - Sean O'Dwyer. He was also coached by RIOBARD O'DWYER, the older of the two brothers, and another legend in this sphere of jumping.

Riobard took seven National Championships in the event - five in a row from 1952 to 1956 inclusive, and again, in 1964 and 1965. From 1952 to 1965, Riobard was only twice out of medals at National level, and that due to injury. Both sets of
statistics must surely form something of a record!

Added to these National successes were considerable triumphs at County and Regional level, and the impressive array of medals include Kerry, Cork and Wexford Championships, to add to Munster and Leinster ones. He has one memory of competing in New Ross, back in 1954, when his final phase took him clear of the pit - and the row of sods at the other end of the sand - into the next field. That jump was a new Wexford County record - one that still stands to this day.

Once his competitive days were concluded, Riobard took up coaching and administration, with much
enthusiasm. He was the National triple and long jump coach, and founded the Ireland branch of the Kangaroo Club. In addition, he can lay claim to introducing women to the event, beginning at national - primary - school level.

Riobard organised National women's triple jump Championships, and he coached Eileen Kelly of Beara and
Margaret Murphy of Ovens to a high level in the event.

Riobard formed Beara Athletic Club, and the club enjoyed tremendous success, especially the women's
cross-country team. In one particular year, Beara AC won every Cork County Championship open to them - senior, intermediate and under age. Eileen Kelly was among the star athletes, and she secured International recognition - in her very first year of competition.

Riobard remembers the 'good old days', when facilities for training and jumping were practically non-existent. Many jumping competitions were held in a field, and uneven ground conditions caused many a 'crocked' ankle.

As a motivator, Riobard has few equals anywhere in the country - it was he who introduced the author of this book to athletics - and how ironic that the author should eventually fill Riobard's role as the National triple jump coach, albeit almost two decades after Riobard eventually called it a day!

Note:
Riobard O'Dwyer died on January 22nd 2020 - Ar dheis Dé go raibh a anam dílis

Death of Riobard O'Dwyer - Eyeries and Late of Beara AC
Riobard O'Dwyer will be remembered as a Beara great - Southern Star

LAST WORD COLUMN: Riobard O'Dwyer lived a life less ordinary - Southern Star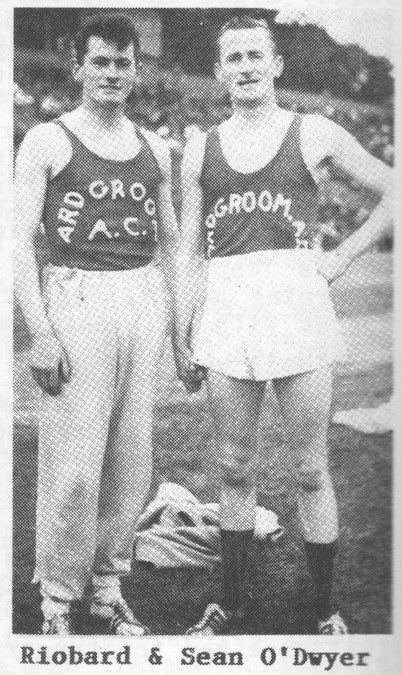 Sean O'Dwyer

SEAN, who was Irish record holder in the triple jump from 1963 to 1972, set up his best ever jump of 51'0¼ ~ 15.56 metres at Banteer, in 1970. This jump was unfortunately not recognised as a new Irish record, because the officials forgot to bring the necessary wind-gauge with them!

Sean matched Riobard in his triple exploits, and there were six National successes altogether - on to those of 1961, 1962 and 1963, he added three more in 1966, 1970 and 1971, for a grand total of six. In a twenty year period, therefore, the O'Dwyer brothers were masters on thirteen occasions!

In 1966, he won the high jump and triple jump titles, at the Irish Universities Championships, and, competing for UCD, he won the three jumps against Louvain University. His best performances in 1966 were 15.19 metres, in the triple jump, 7.17 metres, in the long jump, and 1.83 metres, in the high jump. He also won the triple jump in the Tailteann Games at Croke Park in Dublin that very year.

He took 'time off', in 1967, to train the Beara team that won the County senior football Championship, after a lapse of 27 years, with Riobard as goalkeeper on that team. Oone wonders what the brotherly sentiment must have been like!.
Sean competed Internationally for Ireland, in Switzerland, Iceland, the Netherlands and Spain. He increased his Irish record in the triple jump to 15.21 metres, in the European Cup, in Reykjavic, Iceland, in 1970, and captained the Irish track and field team against Spain, in 1971.

After his athletics career he studied and obtained a doctorate in the sports-related Educational Psychology (PhD). At the Los Angeles Olympic Games in 1984 he read one of his many research papers to the Olympic Scientific Congress.

Results of Inernational Cross-Country Championship, Witton Park, Blackburn, UK, Saturday March 23rd 1968
Eileen Kelly was among those Riobard coached in the late 'sixties, in Beara. Eileen was a great cross-country runner, and won many National, Regional and County titles. She led the Beara team to success in the first County BLE cross-country Championships.
She ran for Ireland, in Blackburn,in March 1968, finishing 29th in the International cross-country Championship. On one memorable occasion a County Board official, who was taking entries, asked of Eileen ... 'club?' ... to which she replied 'Beara'. The response was unexpected ... 'what is that?' Eileen's career may have been brief but it was nonetheless packed with much activity and success.



Irish Team, including placings, at International Cross-Country 1968


The Glasgow Herald's report on International Cross-Country 1968


Paddy Moore
An altogether different career is that of PADDY MOORE, ths genial Leevale man. It was back in 1967 - at his first National - that Pat took a medal, in this case a silver. That came via a throw of just over fifty five metres. It was somewhat unusual then that some twenty five years on - in 1992 - Pat was again among the medals, a bronze, with a throw of just under fifty five metres! This surely must rank as among the top careers that any athlete has enjoyed.

Two years prior to his medal winning performance at the 1967 Nationals, Pat made his first foray at Championship level - this was at the county seniors. Here he was beaten by Der Nugent at Clonakilty. The following year, he reversed the medal positions, and also scored a notable treble, in Lahinch, at the Southern Region juniors - javelin of course, as well as shot and discus.

In 1972, Pat won his first National javelin title, some three years after winning his first senior 'cap'. This was in Dublin, with Spain the opposition. Pat was third, with Limerick man Pat Hartigan fourth. Over the following years, Pat maintained a very high standard, and remained the top javelin thrower in the country, until the arrival of Terry McHugh.

In 1987 Pat 'turned' veteran, and of course became the top javelin 'vet' in Ireland. An over 40 mark of 56.76 metres ensured his name was back in the National record books. His personal best with the javelin, old style, is 67.40 metres, set in 1974. In 1992, Pat moved onto the over 45 category, and quickly established new National figures with the spear - 52.7 metres, at the Eagle Athletic Club throwers meet in August. This mark has this year been upped to over 57 metres, and Pat is still confident of throwing over 60 metres this summer.

His bronze at the 1992 National Championships established something of a record, as he therefore had taken Championship medals in the 'sixties, 'seventies, 'eighties and of course the 'nineties - surely a feat never again to be emulated.
JOHN BUCKLEY
John Buckley on cover of Irish Runner 1992 Annual, with Sonia O'Sullivan
The career of JOHN BUCKLEY is not alone lengthy, but is also quite outstanding. His efforts over the roads, cross-country, and on the track, have coincided with the life of BLE. John has, of course, won every athletics honour in Ireland, and he also has the unusual distinction of having represented Ireland over the roads, and cross-country, and on the track.

At the age of nineteen, he became the youngest ever winner cf the Cork County senior cross-country title, quite anachievement, considering the strength of that particular discipline in the County. He was also the first Corkman to win the Southern Region senior cross-country title, and, indeed, the first Corkman to win the National cross-country Championships. John is also a member of a select band of just three runners who have won the National inter-club and the National inter-county titles in the same year.

John was a member of the first ever BLE team to compete behind what was then the 'Iron Curtain'. Mattie Murphy and Donie Walsh, two other legendary Cork runners, comprised the three man team that ran in Czechoslovakia. During the early years of BLE, John was among the leading runners in the country, yet, however much distinction he attained as a junior, and then a senior, it his exploits as a 'vet' that has truly catapulted John onto the International scene.

John entered the veterans' ranks in 1985, and, that very year, he took quite a scalp in the shape of Olympian Peter Maher. This was in a ten mile road race in Macroom. There was also a sub-50 minute 10 mile - 49:51 to be exact - the same year, and also two medals at the European Veterans' road race Championships - a silver in the 10 kilometre, and a bronze in the 25 kilometres.

In 1986, there was a gold in the veterans' category, in the national marathon, and half marathon. John took a bronze in the European Veterans' track and field Championships, and was also fourth in the marathon, in 2:27, a minute slower than his Dublin run, which constituted the National marathon that year. He rounded off the year with a a run in the New York marathon. Further International marathon running followed in 1988 - in Berlin, where he was second veteran in 2:29, and in Rotterdam the following year, sixth veteran in 2:31. Now in the over 45 classification John took four National veteran titles in 1990 - 15 kilometres, 25 kilometres, half marathon and cross-country, all these titles were regained in 1991, in addition to which he won the 1,500 metres, and 5,000 metres National track titles.
That year was perhaps John's best to date. Two golds were won in the European Veterans' road race Championships. Yet this was only a foretaste of what was to come at the World Veterans' track and field Championships. Held in Turku, Finland John struck gold in the 5,000 metres, and the 10,000 metres, and added further 'gold' through the cross-country, as an individual winner, and as part of the Irish team.
John Buckley's Seiko Award - from Irish Runner 1992 Annual


In 1992 John took four National veteran titles - 5,000 metres and 10,000 metres on the track, and 15 kilometre and half marathon title on the road. In August, there was further International success, at the World Veterans' road race Championships in Birmingham. Here John took an individual bronze, in the over-45 10 kilometre race, and, as part of the Irish team, took further bronze in the over-40 10 kilometre, and 25 kilometre races.

This is quite a long list of achievements for John to reflect on. However, with his running never better, it is obvious that there is still much to expect from John in the future. Cork has been more than fortunate in the number of veterans who continue to compete at a high level, and to a high standard.
MICHAEL KIELY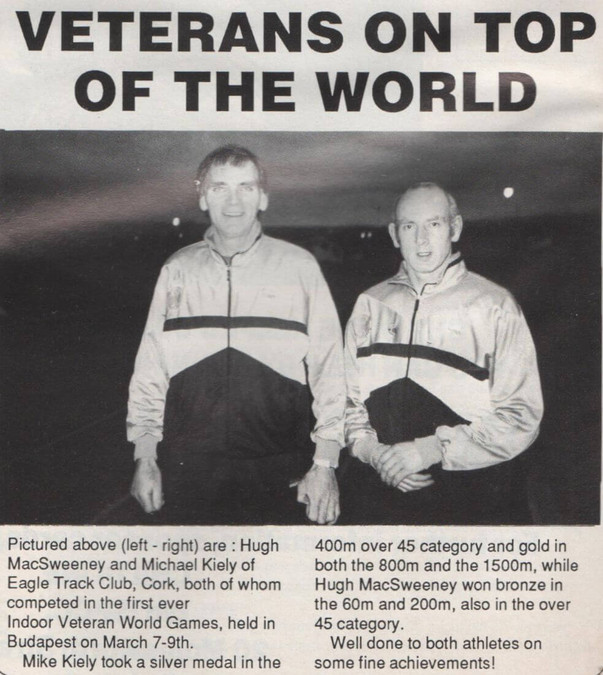 Among those who can legitimately be described as world class is Eagle Athletic Club's MICHAEL KIELY. In his younger days, Michael travelled throughout the four corners of the world, but has more recently settled in the Blarney area. There is a fond memory of an early meeting with the present County Board secretary, in his early teens, and that remains his earliest involvement with the sport.

With recent personal bests of 54.8 for the quarter, 2:03.0 for the 800 metres and 4:15.0 for the 1,500 metres, Michael is quite capable of holding his own at County, Provincial, and at National level. He is a keen 'traveller', and supports open sports meetings that promote veterans' athletics.

Probably his best successes to date were at the last World Indoor Championships. These were held in Budapest, Hungary, and Michael returned home with two golds and a silver - all in the over 45 category. The silver came via the 400 metres, and the two golds were in the 800 metres and the 1,500 metres. Thus Michael in the one Championships proved to one and all his supremacy on the European stage in the middle distance events in the over 45 classification.

A hard winter's training last year saw Michael in great form this summer, and he has been regularly under the 2:10.0 mark for the 800 metres.
Related Articles

Extracted Cork Results from Athletics Ireland National Masters Indoor T&F Championships 2018
HUGHIE McSWEENEY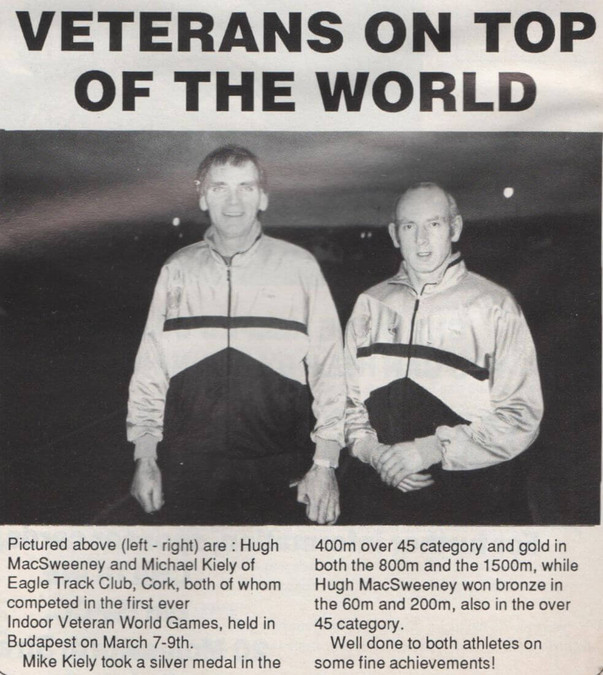 Another excellent veteran athlete at 'Eagle' is the well known sprinter and jumper, HUGHIE McSWEENEY. Hughie is a 'new comer' to the world of athletics, but yet he has already enjoyed tremendous success. Being quite the all-rounder that he is, Hughie will think nothing of competing in the longer sprints - the 400 metres inclusive - or something as completely opposite as the shot putt. Hughie is at present in the over 45 category, and has come to dominate his events Nationally.

Last year, Hughie set something of a record in his Championship medal winning performances. In early May, there was triple gold in the 100 metres, 200 metres and long jump, at the County 'vets'. In June, he repeated the feat at the Southern Region Championships, and, a month later, at the Nationals in Waterford, Hughie took gold in the same three events!

On the International front, Hughie was just out of the medals at the last World 'vets', held in Oregan, in the United States, back in 1990. The following year, he travelled to the World Indoors in Budapest - in the company of Mick Kiely - and took bronzes in the 60 metre dash, and the 200 metres. He was also fourth in the long jump.

Hughie's best for the 100 metres is 11.6, and he has a 24.4 clocking for the 200 metres. His best for the 400 metres is 56 seconds, but he feels he can go much quicker over this distance. His personal best in the long jump is in excess of six metres, which is quite some jumping for his age.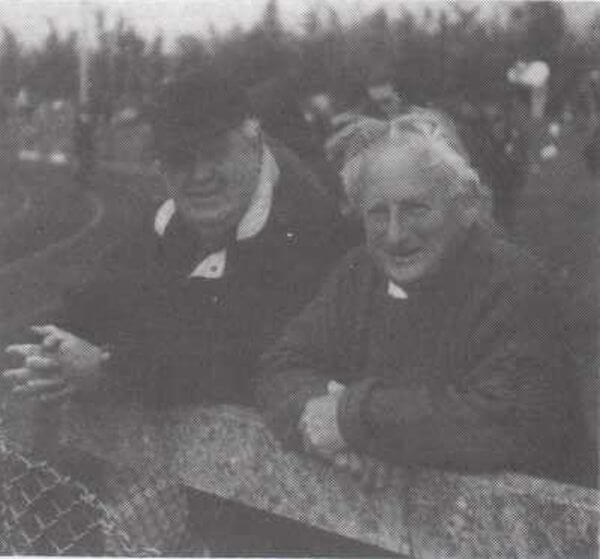 Interested spectators, on this occasion, and authorities on the sport, Michael Sheehan and Paddy Linehan (right)
Another stalwart at Eagle AC is PADDY LINEHAN the well known coach and official. At the club he enjoys tremendous success with the throws - in particular the shot, hammer and the 56 pound weight events, where he coaches many a thrower to National success.

Paddy's three daughters, Helen, Kathy and Noreen have dominated the local and regional athletics scene over the past decade. Helen had particular success with the shot and javelin, but was also a race walker of National standing. Kathy was a sprinter and hurdler, and a capable shot putter. Noreen is something of an all-rounder, but has a particular liking for the hammer, an event in which she excels. Over the past number of years she has placed National, Championships, and, this year, secured International recognition, when that event was included on the Cork City Sports programme for the very first time.

However Paddy's successes have not been confined to the family. Among his more noted charges is Colm Murphy, who had bests in the early 'eighties of 51.18 metres in the discus, and 14.86 metres in the shot. After retiring for a decade, Paddy convinced Colm to return to the competitive fold, and a 7.44 metre best in the 56 pound for distance was recorded in recent months. Paul Lynch and Seamus Manning were former Eagle members, with both sending the hammer in excess of 40 metres, under Paddy's tutelage. Pat O'Leary was yet another excellent all-round thrower before illness prevented further success.

At the present, Paddy has yet another fine collection of throwers under his care; Johnathan McSweeney is among the top junior shot putters in the country at present, and both Tim O'Herlihy, discus, and Martin O'Sullivan, hammer, can expect to attain standards which will attract the attention of the athletics observer.

Besides coaching, Paddy is also well known for his officiating capabilities. He is a regular at the National Championships, and it was he who placed that marker at 86.46 metres, when Yuri Sedykh broke the World hammer record, at the 1984 City Sports. In his younger days, Paddy was a noted cyclist, and won many a County and Regional Championship, and was a regular on the County sports circuit. Injury put an early end to his competitive cycling pursuits, thereby releasing a youthful enthusiast into the area of athletics. That enthusiasm still permeates through all his endeavours, and is passed onto those he coaches. The throwers at Eagle, both young and not so young, continue this exuberance for athletics.
JOHN MEAGHER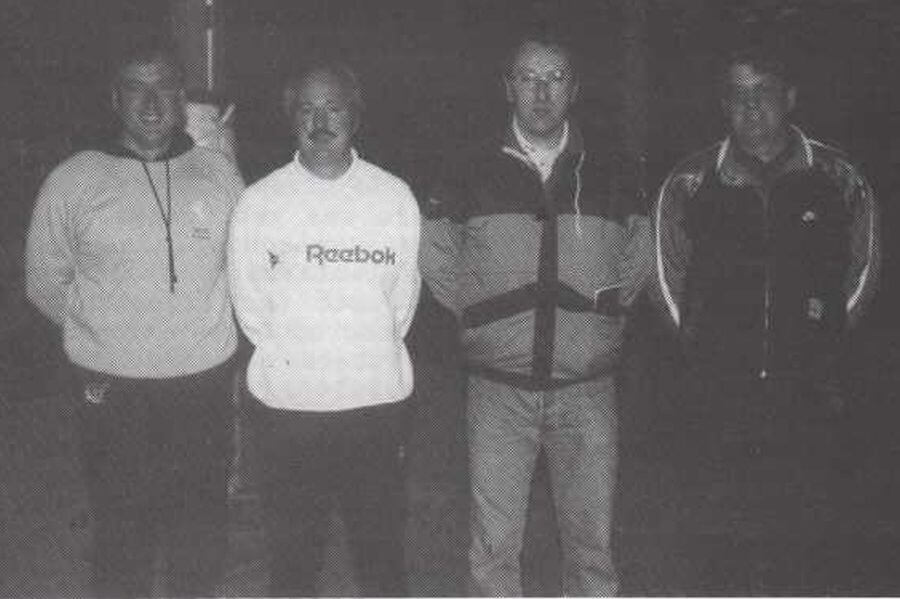 Cork coaches at a National session at the indoor complex in Nenagh, 1992; from left, Colm Murphy, then National discus coach, John Sheehan, Declan O'Donoghue, then National throws coach, and John Meagher
Another to benefit from Paddy's expertise is Blarney/Inniscarra man JOHN MEAGHER. A native of Nenagh, John came to Cork two decades ago. In younger years athletics did not play a significant part in his life, except for the odd run in the school cross-country team, which, at the time, participation was considered compulsory.

John became involved in the sport in 1982, as a parent, when his two children joined the local athletic club Blarney/Inniscarra AC. Here he took an interest in coaching, and under the watchful eye of the then club member, Paddy Linehan, he was taught the discipline of coaching athletics in the throws. Luckily, at the time, there happened to be an'active' coach training programme in progress. Seeing this, John joined up. On completion of the course, which included examinations, he qualified as a junior coach, and, later, after a further course and examination, he became an intermediate coach.

John has enjoyed many successes as a coach since then, and was selected as a coach/manager to 'the Irish team for the Celtic International in 1992.

John is, however, almost as well known in the administrative side of the sport. In September 1984, he attended a BLOE County Board AGM for the first time, and was tipped in at the 'deep end', when elected competition secretary, in succession to Mick Quinlan of Bandon. He was to hold that post until 1990. During his tenure he ensured the 'stream lining' of the County track & field and cross-country Championships. Meet times were brought down to an acceptable standard, and public safety was improved. In 1990 he resigned from this post, and was subsequently nominated for the post of National registrar.

John was duly elected and has remained in this post for the past three years.
TADGH TWOMEY
Tadgh Twomey
Of throwers, few have been as successful in recent times as the legendary TADGH TWOMEY excelled in many sports - gaelic games, boxing, rugby and of course athletics; and, within the latter, he was a magnificent all rounder. Yet his name is associated more with the 56 pound weight than any other endeavour.

His interest in sport grew from watching the annual Ballinspittle sports, where the weight throwing attracted his attention. Tadgh had his own weight at home, and practised with this, until, in 1958, he was ready for competition, and duly took his first county medal at Glenville.

Tadgh fell under the guidance of the legendary George Bennett in 1959, and, after a foray in the boxing ring, - there was an Irish silver Championship medal - he turned his full attention to athletics. In 1960, there was the first of no less than 33 National Championship medals for weight throwing.

The full list of Tadgh's stupendous achievements have never been chronicled properly. But there is no disputing the fact that, throughout the 'sixties' and 'seventies', he was the undisputed king of the 56 pound events.

Unfortunately for Tadgh, records have been elusive - not because he missed out on the 'big throws', but because of other variables that precluded acceptance at National level. Back in 1964 - when a member of Knocknacurra - he lobbed the 56 pound weight up over the 4.72 mark, at the National Championships in Gorey, and followed this up with another great heave at the Ballinspittle sports, the following year, to break the 1943 Ned Tobin national mark of 4.70. Both of these marks were never to be 'officially' recognised due to 'technical irregularities'. Tobin's mark then was to last for thirty seven years, until 1970, when, at Banteer, Tadgh 'officially' hoisted the 56 pound weight over the bar set at 4.75. His personal best was a further three inches higher, at 4.82, set at the 1975 National Championships held in Belfield.

The 56 pound for distance mark eluded him, although there was a great heave of 9.31, at Brosna, but this mark too was never 'officially' accepted as a national mark. One great story of Tadgh relates to an incident in the mid 'seventies', when his throwing hand was injured. He duly threw the weight with his left hand and still took Munster and National medals!
In addition to his prowess with the 56 pound for weight events, Tadgh also collected medals at County, Provincial and National levels in the high and triple jumps - his best being over 6 feet - 1.83 and 14.32 metres respectively.


Related Article

Death of Tadhg Twomey - Rising Sun AC Knocknacurra AC and late of Bandon AC
Brendan Crowley
A fellow Bandon AC man to secure fame at around the time of Tadgh's height was BRENDAN CROWLEY. Brendan was a member of the St Patrick's AC team that won the inaugural County under-14 cross-country, at Ballymartle, in 1964. By the early 'seventies', he was realising his full potential as a star athlete, and started the decade off through winning the Con O'Callaghan Cup, for the best all-round athlete, at the West Cork Championships. There followed the Con Cashman cup, for the best athlete at the County Novice.

At the same time, he was delving into the world of administration, as he became secretary of the West Cork Board. He remained in that post until 1975, when replaced by Carmel (Harrington) Maher. In addition, he was PRO of Bandon AC at the time. Yet his forays into the competitive world of athletiics were proving successful. There were gold and silver sprint and quarter medals at Southern Region level, in 1973, and a silver at the National Juniors.

By now he was at UCC, and was a member of some very successful relay teams at the College. He was third at the National Championship, in the 400 metres, in 1974, the same year he collected his first International 'cap'. Through the mid-seventies he continued to be placed in the 200 and 400 metres, at County and Regional Championships.

In 1975 he was elected secretary of the Bandon club, and two years later he followed Donie Duggan of Carrignavar as secretary of the Cork County Board. This was under the chairmanship of Paddy Hartnett, Midleton. Brendan continued in office until 1987, as Paddy was succeeded by Reg Hayes - for two terms - and Mick Dooley. Thus Brendan was secretary when many of the well known events of the County Board were established - the County Leagues, the Cork City Marathon and the EVENING ECHO Ladies' mini-marathon.

After retiring as County Board Secretary, there followed a 'brief' respite, until he once again took the post of secretary to Bandon AC. Brendan is a regular at all County Board events, and is always assisting whenever and wherever required.
BRENDAN MOONEY
Brendan Mooney
A contemporary of Brendan, both at the time, and in the 400 metres, was BRENDAN MOONEY. Brendan was of course yet another great quarter sprinter, at a time in Cork when winning the County Championship was as difficult, if not more so, than the Nationals. Yet Brendan maintained his standard and recorded several sub-49 second quarters, in a career that took in the late 'sixties' and 'seventies'.

There were many County, Regional and National medals, and many an exciting tussle, with such as Fanahan McSweeney, at the City Sports. His involvement in athletics ensured that the sport was more than adequately 'covered' in the CORK EXAMINER, where Brendan continues to give athletics some excellent footage.

CASHEL RIORDAN
Cashel Riordan


Yet another of the outstanding 400 metre athletes of the 'sixties' and early 'seventies' was CASHEL RIORDAN, a figure even better known these days in his guise as a starter of many a programme, from County to National level.

In his school days at CBC, and later at UCC, Cashel concentrated on the 100 yards, 220 yards, high hurdles and high jump. Success was early, as at the age of 16,Cashel took a silver, 100 yards, and a bronze, 220 yards, in the Irish Schools Intermediate Boys' category. There followed further successes at senior Schools' level, before going to UCC, and competing in senior athletics.

Cashel was on the UCC O'Sullivan Cup - Inter-Varsity track and field Championships - winning squad of 1958. This was the last time that the Cork students won this title, and, in those Championships, Cashel won two silvers, in the 100 yards and the 220 yards.

1961 and 1962 were very successful years, with gold medal performances in the 220 yards, and 440 yards as well - as the odd foray over the 100 yards - at County, Regional, National and Inter-Varsity Championships, and a 440 yard winning performance, at the Cork City Sports. He was also selected for the World Student Games, in Sofia, that year, but Cashel never did get to challenge the best over the quarter, as there were accreditation difficulties - the long standing political situation in the sport deprived him of the chance of competing at this level.

It should be added, that the strength of 440 yard/400 metre running in the county, was never higher than in this era. Between 1952 and 1961, the National 440 yard title was won by one of just four athletes - Tom Cavanagh, Charlie Vaughan, Jim McKenna and Cashel Riordan - all of whom were from Cork. Following on, of course, there was Fanahan McSweeney, Brendan Mooney, Maurice Power, Brendan Crowley and Mick Dooley, to name but a few, and all from Cork City or County! Cashel retained his National 440 yard title in 1962, and again won over that distance, at the City Sports. As well, of course, he retained Munster and Cork County 220 and 440 yard titles. The following year, in May, he retired from competitive athletics, after taking gold in the Inter-Varsity 100 and 440 yards, and a silver in the 220 yards.

There followed a move to Canada, but retirement was somewhat brief, as he again competed in 1965, taking medals in the Eastern Canadian Championships, with Toronto Striders, and also being on the 4 x 110 yards quartet that placed sixth in the USA Championships. The following winter, Cashel was selected for the Eastern Canada team that took on the West of the country. He was also a finalist in the Canadian indoor Championships.

From Canada, Cashel moved to Birmingham, in May 1966, and at the National - Irish - Championships, in Banteer, he struck gold, in the 220 yards, and the 440 yards. Cashel really stole the limelight, as his 440 was run in record time - 49.0, which equates to 48.7 for the 400 metres. For good measure, he ran a new National record time in the heats of the 220 yards, and followed up with an even faster run in the final, clocking 22.0 - equating to 21.9 for the 200 metres.

Cashel also made a triumphant return to the City Sports that year, taking the 400 yards with some ease. Throughout that Summer, he also competed in England with Birchfield Harriers, taking a bronze in the AAA Championships, as a member of the club's 4 x 440 yard team.

A return to Cork followed in December, and, in 1967, Cashel again dominated the 440 yards nationally. He was selected on the first BLE National team to represent Ireland. This was in the Europa Cup, with Santry Stadium, in Dublin, the venue. Cashel was on the 4 x 100 metres and 4 x 400 metres squads, and was also reserve for the individual 400 metres. This, for Cashel, was the highlight of his athletics' career.

There were again Championship medals in 1968, and Cashel was on the St Finbarr's team that won the very first - BLE - National 4 x 100 metres relay. The following year, Cashel was back in England, and as a member of Ilford AC, Essex, he ran extensively in the London and Home Counties regions, taking many County medals in the process, in the colours of his new club.

In 1970 he returned to Cork, and won the Southern Region 400 metre hurdles title - a new venture. This however was the final medal winning performance of what was a long and very illustrious career. In the years since, Cashel has run in several marathons, including the first two Dublin and the very first London marathons. He also took part in the Clonliffe '20', the Killarney half marathon, and the classic fifteen miler from Cork to Cobh.

He was a regular at coaching sessions in the late 'sixties' and 'seventies' in the Cork area, passing on his experience and knowledge to the next generation of sprinters in the county and province. As a starter he is a regular on the athletic scene - at local County, Regional and at National level. He is the current All-Ireland School's starter, as well as a regular at the Cork City Sports. Here again his expertise and experierience as a sprinter is brought very much into play, as Cashel very much appreciates the requirements, attitude and patience required of the sprinter in this area of his/her endeavour.

One of the all-time greats of Irish sprinting, Cashel continues to be a great servant of the sport. With his white cap, he provides a vital service through his role as starter. His understanding of athletics singles him out as a keen observer of the sport, and, of course, his historical knowledge has already resulted in published works.
Related Articles
Atheletics Ireland Tribute to Late Cashel Riordan

Middle and long distance 'greats'; from left, Dick Hodgins, Marcus O'Sullivan and Donie Walsh
DICK HODGINS of Leevale was another active athlete wh0 continues to give great service to the sport. An International from 1965 until 1981 inclusive, Dick has, over the past number of years, coached many an athlete to the same high standard.

It was on a warm July night in 1963, at the Cork City Sports, on the Mardyke old grass track, that the holder Terry O'Connor struck for home at the bell, opening up a 10 metre lead, and well on his way to retaining his Irish 1,500 metre title. He still led by 10 metres entering the home straight, but suddenly a young Corkman accelerated with even greater speed, closed the gap rapidly, and hit into the winning tape a foot ahead of the Dublin man, to win his first title. Dick Hodgins had arrived on the National scene, and in the next twelve years was to win 14 National titles in all.

If the first Championship win was the closest, the final outing was ironically the easiest. The National marathon title in 1975 in a fast 2:18:43, winning, by a full minute, from one of the best National finals assembled for the classic distance. Over the intervening years, Hodgins took on the worlds best, first at 1,500 metres, then over 5,000 metres and 10,000 metres, and, finally, over the marathon. Very few Irish runners had such a wide range of events at a high performance level. Titles were won over all the distances, in addition to 3 in a row 15 mile road National titles, culminating in a fantastic 71 minutes 43 seconds record, over the old Cork to Cobh course, in 1969, which was the worlds fastest time that year nearly 20 seconds faster than the Ron Hill best, then the World's number one marathon runner.

Over a long competitive career, Dick set a number of notable records. As a schoolboy, he was the first Cork boy to break 5 minutes for the mile, when he won the South Munster track title in 4 minutes 48 seconds, breaking the old record of 5:05, at the Dyke. In 1967, he became the first Irish Champion, and first race winner under BLE rules, when he annexed the 15 mile road title over the Cork/Cobh course, on which he was almost unbeatable at the sprint. His debut over this distance, 2 years earlier, came it about in rather unusual circumstances. Arriving at the Mardyke to run a mile race he discovered that the meeting was cancelled, due to flooding, so, having eased off training for a few days, he opted to run the Cobh race instead, and easily won the event in a shade over 75 minutes. He repeated this success in 1967 and 1969, apart from National title wins in 1967, 1968 and 1969.
During this period he also raced over 5,000 metres, in the Europa Cup, in what was BLE's first track and field
International, and made over 20 International appearances.

On the old Santry cinder track, he served notice of his marathon potentia,l by winning the Irish 10 mile title in 48:48. His International marathon debut, in Spain, in 1969, was dramatic, for he finished a close 2nd in 2:25:02, behind Mamo Wolde, the Olympic Champion who won in 2:24:51. Three days exertion at Santry, Dick had won 10,000 metres, in 29:29, in an International against Switzerland, where he was one of only three Irish winners. He won 3 of his 4 10,000 metres International races, a unique record for an Irish athlete at that time.

In 20 marathon races, mostly abroad, in the major International venues at Kosice, Rotterdam, Amsterdam, Enschede, Prague, Pilsen, he was in the 2:19/2:22 range, and represented Ireland at senior level until 1981, when he captained the Irish team. His first marathon was the National Championship, in Cork, in 1984, when he won the 'vets' table in 2:31.

Since retiring, he has successfully turned to coaching, and, over the past four years, has coached the highly successful Leevale junior distance runners, who have dominated the National Championships. Apart from coaching, Dick is the current meeting director of the famed Cork City Sports.


Related Articles
RICHARD (DICK) HODGINS, RIP - Cork City Sports
Michael Moynihan's Irish Examiner Tribute to Dick Hodgins


Another well known coach at Leevale is JOHN SHEEHAN, who is also the current chairman of the club. John has been coaching for over a decade now. His interest with athletics began at the 'North Mon', where he was on the cross-country team. Other sports attracted him initially, and he played hurling with Glen Rovers, and rowed with Shandon BC. He was also a keen enthusiast of gymnastics, before settling with athletics and sprinting.

Over the years, many a successful sprinter has come through his care, and the present generation promises much. His coaching expertise continues the tradition of the club, where Finbarr O'Brien was once supreme. This past year, John organised several coaching courses in his particular field, at which Ciaran Coakley, the National Coach, was also in attendance.


Related Articles

John Sheehan named Athletics Person of the Month

MATTIE MURPHY, a one time contemporary of Dick's, was born near Ballinhassig. He joined the local athletic club - Rising Sun - but success was very slow in coming at first. He won a few novice prizes, and a few novice Championships, until he was eventually promoted to the senior grade. This proved to be the start of a great career, which included several International appearances for Ireland, eight Irish Championship titles, and many Munster and Cork County Championships.
His first major success came in the five mile Munster Championship, held in conjunction with the Rising Sun sports, in Kinsale. Here he won, defeating none other than his own clubmate, and favourite, Willie Webb. Thus followed a great career with eight National titles in all.

His greatest year was, perhaps, 1967. For the second time in his career, and as captain, he brought the General O'Duffy Cup home to Cork, for the All-Ireland senior cross-country Championship. He won the Cork County senior cross-country, was second in the Munsters, and third in the Nationals. He won the first BLE track National Championship, 10 mile, at Santry, and ran second to Chris Perry, over 5,000 metres, at the Cork City Sports, breaking the fourteen minute mark for the first time in his career. He also won the Army three mile Championship, in a new record time, to add to his growing collection of medals.

In September of that year, he - together with Donie Walsh of Leevale and John Buckley of St Finbarr's - ran for Ireland in Czechoslovakia. This was the first BLE team to compete Internationally overseas. The following year, there were further Internationals in Spain, Tunisia and England, the event in Tunis being the International cross-country Championships. In 1969, he was on the Irish Army team that took the silver in the International army cross-country Championships. Later that year he won the 5,000 meters for Ireland, in the match against the Swiss.

There were further successes in 1970, including the Cork to Cobh fifteen miler, and he was on the Irish team that competed in the International cross-country in Vichy, France. In June be ran in an International in Italy, and, during the course of this race, he injured his leg. Unfortunately the injury did not respond to treatment, and so ended a great athletics career.
JOY MURPHY
A namesake, but no relation, was JOY MURPHY, one of Ireland's outstanding athletes in the 'eighties'. Joy began her career, at the age of 13, with Riverstick AC, and immediately showed her potential as a future Champion. She subsequently moved to Bandon AC, when she was 16 years old, and then to St. Finbarrs the following year. In later years she competed with Leevale AC. At Rochelle, Joy won many an All-Ireland Colleges' title.
During her senior career, Joy won over thirty National medals, 25 Munster Championships Medals, and almost fifty Cork County Championship medals. She was the Irish Women's senior long jump Champion on no less than six occasions. Joy was also the National record holder in the pentathlon, and when that event fell into abeyance, she became the first holder of the record in the heptathlon. In all, Joy held the National record in both these multi-events for over five years, in the early 'eighties'. She was the second Irish woman ever to exceed the magical six metre mark in the long jump, and came within an inch of the ten year old Irish Record set by Margaret Murphy in 1971, with a mighty leap of 6.02 metres.

Joy competed in other European countries, for Ireland, of course, on nine occasions - the most prestigious being the Europa Cup, when the opposition came from Czechoslovakia, the Soviet Union and the German Democratic Republic. Her athletic ability was recognized at a more 'local' level, through being awarded the West Cork Sports Star of the Year award on no less than three occasions - in 1978, 1981 and 1982. Quite an achievement in itself, reflecting the standing she had in the world of sport.

Joy met her husband, Tom, at an athletics meeting in County Tipperary, where both were competing. Tom was also very involved in athletics, and won National medals in the walks. Joy has now retired from serious athletics, and divides her time between her family, a thriving Sports Trophy Business, along with some tennis, and a little bit of jogging.
MICHAEL HAYDON, another from that part of the County, ranks among the most colourful, learned and popular athletics officials in Ireland. A man with a sharp tongue, and a keen wit, Michael is never short of a word on any topic, but especially the world of athletics. He is now enjoying a well earned retirement, after a most distinguished career. As an official in the Department of Finance, he reached the very top in that chosen career. He now devotes much of his time to his beautiful garden, and to his beloved athletics.

In the hallowed days of Irish athletics - back in the 'forties', Michael was a driving force behind the Civil Service Athletic Club, both as an athlete, and administrator. This involved not only competing, but also organising many sports meetings in Dublin, in which household names such as Kelly, Barry, Guiney, Downey, O'Brien, Flanagan, Wall - all National Champions competed. In 1946, he was transferred from Dublin to Lecithin, where he played junior hurling with the county, as well as being a handballer of no mean standard.

On his return to his native county, in 1970, he came to live in Bandon. His active involvement in athletics was rekindled, and he again made his services available as a coach, officer and adviser. He was among those behind the success of the club in the 'seventies', when the County Graded Leagues were won on numerous occasions, and Bandon athletes were very much to the fore.

His expertise in the coaching area covered all facets of the sport, from sprints to the jumps, but in particular his enthusiasm for weight throwing ensured that the club had among the best in the country, in the late 'seventies' and early 'eighties'. Like any great coach, he did not confine his interest to Bandon athletes alone, and many athletes from other clubs in the county availed of his generosity and advice.

During this time, he also served the County Board well. He was involved in the development of track and field, during the Hayes and Dooley regimes, and became a specialist on bye-laws. His advice was always most welcome. Michael is perhaps best known nationally as a most eloquent and learned speaker at National Congresses, where his witty and entertaining oratory style always draws applause from the delegates.

Michael is indeed the father figure in the athletic scene today, and is still coach to Paul Kelleher, and several other athletes scattered around the country, who regularly come to Bandon for coaching weekends.

DECLAN O'DONOGHUE
In the area of coaching, there are few in the country with the same expertise as DECLAN O'DONOGHUE, a native of the College Road area of the City. He was educated at Sullivan's Quay CBS, and completed his studies at UCC, where he was a regular on the University rowing team.

Declan began coaching athletics in the late 'sixties', concentrating mainly on the technical events. He qualified as a coach at the Summer School of Athletics in Belfield, and also at Loughborough, in England. Besides coaching at St. Munchin's, he also is heavily involved with Limerick Athletic Club. In 1976, Declan became Director of Coaching for BLE, thereby having responsibility for the overall National coaching structure. In 1984, he became the National Coach for the Throwing Events, a post he was to fill for almost a decade. In more recent years, he was appointed the Schools' Munster Coaching co-ordinator - a post he fills with much enthusiasm and vigour.

Overseas jaunts have included the European Track & Field Championships in 1986, where he was the field events coach to the Irish team, and, in 1988, he was in charge of the Olympic Squad, at the Games in Seoul.

Over the years, Declan has been coach to many an Irish record holder, from such diverse events as the high jump, javelin, pole vault and multi-events. Niall O'Shaughnessy, Frank O'Meara, Barry Walsh, Brid Hallissey, Brenda Walsh, Margaret Crosse and Mary T Real are among the athletes he has coached to prominence over the many years he has been involved in the sport.

Declan is well known on the National athletics scene, and, during the year, he is a regular Cork visitor, whether in his guise as coach, or official. Besides coaching Declan is well up on rules and regulations, and is the field judge at the Cork City Sports, where his expertise is frequently called upon to arbitrate on matters pertaining to the 'field'.
RAY SHANAHAN



The current Chairman of the Cork City Sports Committee is RAY SHANAHAN. It was in his last year studying for a Law Degree at UCC that some friends persuaded Ray to go training with the College Athletic Club. There followed a most successful career on the track, as Ray established himself among the top middle distance men of the country in the mid to late 'eighties'.

At the 1983 Inter-Varsity Championships, at Belfast, Ray, running his third ever 800 metres race, broke the two minute barrier - clocking a very respectable 1:52.9. International selection followed two years later, when he ran in the 'green' vest in Edinburgh. There were further International 'calls', and Ray went on to compete in Norway, Sweden, Denmark, Italy, Spain, and in England of course.

Ray was a twice winner of the National Indoor 1,500 metre title, and was runner-up, on no less than four occasions, in the National 800 metres - twice to Leevale club-mate Marcus O'Sullivan. During this time, he won numerous County and Southern Region titles over 400 metres, 800 metres and 1,500 metres. His personal best of 1:48.80 was set, very appropriately, at the Cork City Sports. Recurring hamstring problems forced an early retirement, in 1989, and an illustrious career on the track had prematurely ended.

Ray commenced coaching at the UCC Athletics Club in 1984. Successes followed over the years, culminating this past season with the women's squad capturing four Inter-Varsity Championships - an unprecedented achievement, rendered all the more remarkable by the variety of these Championships. The success of the women's team in the National cross-country Championship 'B' section, and the National Relays, were the first for the Club, at National Senior Level, since the mid 'seventies. Ray is currently the National Coach for the 800 metres and 1,500 metres, having been appointed in 1992. He served as manager to the Irish Universities Cross-Country Championships, in Dijon, France, in 1992, and was re-appointed to that position for the 1994 Championships to be held in Limerick.

Following the cancellation of the Cork City Sports for two years - in 1989 and 1990 - Ray assumed the position of Chairman of the Cork City Sports Committee in 1991. He re-established the Meet as the primary event on the Irish athletic calendar. Under his stewardship, the Committee forged closer links with BLE, and included a triangular International within the traditional structure of the Meet. The three International teams for the past two years have been Russia, Southern England AA, and of course Ireland.
Another University athlete of that particular time was JOE HARTNETT. Joe made a late start in athletics, back in 1972. This was through the encouragement of Rev. John Jones, who was also responsible for the careers of a number of other future Internationals, including Tim Crowe. In 1974, Joe won the North Munster Colleges senior 5,000, and was second in the 2,000 metres steeplechase. At Munster level, he finished second in the steeplechase, and 3rd in 5,000, to John Trace. He was also second in Munster, that year, in the Colleges cross-country.

In September, he started his studies in Thomond College, and competed at Inter-Varsity competitions without success, until 1977. In that year, he was well in front in the steeplechase when he fell at the water jump, breaking his right leg in two places! This necessitated 14 weeks in plaster.

After six months training in intense pain, he competed at the next Inter-Varsity in Belfast, and this time won the steeplechase, in 9:09.8. In June that year, he competed for the Irish Universities Vs President's selection, finishing second in the steeplechase. This earned him a place on the Irish team for the Welsh Games - against Wales and Holland.
A month later, at the National Championships in Belfield, and in the steeplechase, he broke his left leg, at the last water jump, when well in the lead, seriously damaging the ligaments in his ankle. However He picked himself up and, having been passed on the straight, he went on to finish third!

It took him three years to recover from this particular injury, during which time he moved to Cork, and joined St. Finbarr's AC - with whom he was to train with and run for the remainder of his career. His next major outing was at the Nationals in 1981, when he finished third behind Liam O'Brien. The following year he finished ahead of Liam O'Brien, but behind Brendan Quinn, at the Nationals.

In 1983, after doing a lot of heavy early season training, he finished a tired second to Liam O'Brien, in a personal best time 8:42, at the national championships. The following year though, was to see the major breakthrough.
It was to be his best season to date. There was a 48:59 ten mile time, at Ballycotton, in March. He was strong, and opened the season with a 8:37.8. timing for the steeplechase, to beat Liam O'Brien, at the International trials. This was the third fastest time ever by an Irishman.

Both Liam and Joe competed at the AAA Championships that summer. Liam went on to finish fourth, and gain an Olympic qualifying time. Joe finished two places behind, but off the required time. At the Nationals, a three man race developed to secure the required time. But, due to a very slow 600 metres in the middle of the race, Joe clocked 8:35 - four seconds off!
That was to be his last season, as, in early season training, in 1985, Joe developed a serious injury to his left arch, due to stress on his left foot. However, despite his many successes, few doubt that Joe never did fulfil his full potential.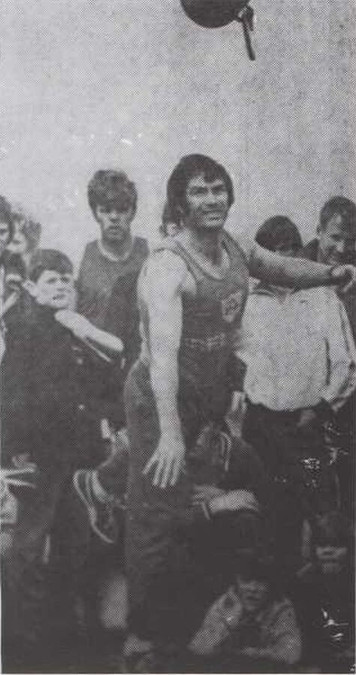 Len Braham throwing in Donoughmore, 1974
,
Another St Finbarr's man was the great LEN BRAHAM who has been very much to the fore in Irish throwing over the past twenty five years. Len made the discus very much his own, and his 56 pound throw for distance reached new ground, when he lobbed the weight over thirty feet, thereby breaking the then National record of the legendary Neb Tobin.

Originally from Cloyne, Len was rather a late comer to the sport, and as such, is testament to what hard work and enthusiasm will achieve. It was back in 1962, when already 28, that Len competed in his first ever athletics competition - the Cork County decathlon. These were held that year in Rochestown College, and that great Leevale supremo Father Nessan advised Len to take up the discus, as he showed much promise. Len took the advice, and so began an astonishing athletics career. That decathlon earned Len a bronze medal - the first of many medals.

A year later, the presence and capabilities of that great thrower Hugh O'Callaghan, at the Cork county track and field Championships, impressed so much on Len, that the relative novice was keen to get down to serious training, to emulate the son of the dual Olympic medallist. Len's first tilt at county Championships saw him compete at the 100 yards, 220 yards, long jump and 56 pound for distance. No shot, discus or hammer asyet. At that, Len threw a meagre 20 feet in the 56 pound for distance - certainly no indication of what was to follow in the succeeding years.

Len's first International was down in Waterford. Iceland were the opposition, and Len was throwing the discus. In 1971, Len fell under the influence of the great German discus coach, Peter Chierne. Peter was highly impressed with Len's upper body strength, and the fact that he could throw overweight implements with great vigour. However technique was quite basic, and distance, as a consequence was being lost. With the Olympic Games a year away, there remained the possibility of what would have been an astonishing Olympic appearance - amazing for someone who had come to the sport so late in life.

The Olympic Games of 1972 beckoned, but Len fell agonisingly short of the necessary qualifying mark, as he upped continually the National record in the discipline, but could not make that final breakthrough to the qualifying standard.
The 1973 National Championships will always remain among Len's treasured memories. There was gold in the discus, and the 56 for distance, and the hammer, which gave him his most treasured memory. With the last round nearing completion, Len pulled out the winning throw, to beat Phil Conway and Bernie Hartigan. There was an extra medal - a silver in the 56 over the bar, to add to the haul.

In 1974, the first veterans' World Championships were scheduled for Toronto in Canada. The over 40 discus, the event and category, which Len would have surely competed in, had he gone, was won with a rather meagre 47 metres, a distance that Len was easily surpassing at every competition in Ireland that very year. However for a number of reasons Len did not travel - the second major disappointment in two years.

Yet in all this, it was at Castleisland, in 1973, that Len entered the record books in a very special way, and thus immortalise him as one of the greats of Irish throwers. For the first time, the magical thirty foot barrier was broken - 30 feet and half an inch to be exact. The 56 pound record throw was measured by none other than Paud Murphy, of the Southern Region Board, and the late Danny Nelligan, father of the all-time Kerry great, Charlie Nelligan. It being a measured record, the distance had to be taken in metres, which surely must have been the first such record for the event done in metric distance, and so the new mark was 9.15 metres.

In 1985, Len made a rather brief return to competitive athletics, and, in the space of a few months, set new veteran National figures in the shot, discus, and both 56 for distance and height. Such was his quality of performance, that Len actually figured in the final shake up for medals in three of these events, at the National senior track and field Championships that year. This past summer, Len made a second comeback, and duly set National veteran bests for many of the throws. Again he figured prominently at County and Regional senior level, and threw the 56 pound weight at the Cork City Sports. Surely among the most talented of Irish throwers, if not athletes in general.
Fr Nessan
Fr. Nessan Shaw OFM
Fr. Nessan's interest in athletics was given a very practical outlet, in 1943, when he began teaching in the Capuchin College, Rochestown. There was a good athletic tradition in the school, so he was encouraged to train, coach and prepare the boys for the Cork Colleges.

In comparison to modern times, facilities were very primitive, grass tracks, holes in the ground for starting, a scarcity of spikes, no foam for the high jump, and white-washed track marks which were always at the mercy of the elements. But competition was keen, and standards good. As there was no organized juvenile competition outside the schools, inter-school competition was organised outside regular Colleges, which were Championships held at local, provincial and All-Ireland level.

During all these years, he pushed hard for regular underage competition, and, after he attended the County Board - NACAI - with that end in view. In fact, both Br Elliott, CBC and Fr Nessan were made life Vice-Presidents of the Association in Cork, in 1954, as a reward for their work in promoting athletics.

In 1956, Fr Nessan assisted in the formation of Hllltown AC, then later founded Fr Mathew AC, as a juvenile club. In the early 'sixties' he was among the founder members of Leevale AC. Shortly after that, BLE was formed, that being 1967, a year later, and, as a result of a Leevale motion, a separate juvenile Board was organized. Fr. Nessan became chairman, and Ted Murray of the Togher Athletic Club was secretary. The BLOE County Board has since grown from strength to strength, and ranks among the premier in the country.

Fr. Mathew AC - although only a juvenile club - had great strength in depth. In its very first year, it was second in the Cade Cup, competing against many long established clubs. It was to cater for the boys in the club who would be growing beyond juvenile age that Leevale AC was formed. Leevale was the first club in Cork to accept the affiliation of women, and Betty Cody, with the Leeside Ladies, were the first affiliated. With them came the Jeffers sisters, from Carrigaline, and so started a great tradition.
FERGUS O'DONOVAN
Fergus O'Donovan, Cork City Sports Athletic Person of the Month, October 2012
Another prominent figure in Cork athletics in the 'sixties' was FERGUS O'DONOVAN. Fergus' early involvement in athletics was sparse, save for the odd foray onto such as the local montessori tricycle race, or primary school three-legged affair. It was late in his career, as a student at CBC, that formal athletics took a hold. In his final year he borrowed spikes, and won the South Munster mile in 5:11. He was third in the Munsters, behind Tom O'Riordan, who went on to win the Nationals.

Fergus' interest in athletics was further strengthened by Noble Johnson, of St Finbarr's, and the young miler became a member of the club. Formal training followed, but the 1956 track season was curtailed, due to the then 'polio' situation in the county. Travel was restricted, and there was, also the worry that entry into further education could be a problem, because of the medical problems in Cork.

In between his studies in Dublin, he returned to Cork at Christmas, and won novice cross-country medals with St Finbarr's. A silver in the county junior followed, and so he was set for the 1957 outdoor season. At the same time, the novice and open sports meetings held the limelight in the county, and Fergus duly did the circuit, taking the six novice titles, which meant senior athletics from then on.

Another year's study followed in Dublin, before he entered the hallowed portals of UCC. His athletic involvement there resulted in further successes at all levels. There were many an Inter-Faculty victory, and at Inter-Varsity level there were medals, over the mile and 880 yards, in the four years he competed at these Championships.

Among the National gold medal winning performances, one in particular bears re-telling. The national medley - 440 yards, two 220 yards and an 880 yards - relay title was being run off in Fermoy, in 1961, and the UCC team that day, consisting of Cashel Riordan, Brian Murray, Connie Sullivan and Fergus, were among the favourites for gold, which they duly collected, with UCD among those in their wake.

At the time one of the top sprinters in the world was at UCD, and he ran in Fermoy. Victor Manning, alias Wieslaw Maniak, was a 1964 Olympic finalist in the 100 metres, placing fourth. He was also on the Poland team that reached 4X100 metre finals in 1964, and 1968 - with a silver being taken in Tokyo. It is said of Victor/Wieslaw that he may well have been Olympic medallist standard, but that did not mean an automatic Irish Championship medal!

By 1963, an achilles tendon problem meant a less competitive attitude towards the sport. That of course did not mean giving up completely. Between 1966 and 1976, Fergus ran some eleven marathons taking medals at Regional level. He also ran 1984 Dublin marathon, and was also a regular on the Cork to Cobh.

At UCC, he had settled quickly into administrative duties with the athletic club. Fergus became a regular at County Board meetings, and was instrumental in bringing many a motion at County and National level. This was at a time when athletics in Ireland was very much in a ferment. Among other notable youthful enthusiasts in the country at the time, with similar views on athletics was one Padraig Griffin - a student at UCG. At the same time, Fergus began his biennial treks to the major athletic Championships, starting with the 1964 Tokyo Olympic Games. The lack of International athletics in Ireland was a major factor he believed in the decline of standards, thus the necessity of reaching an agreement between the many athletic bodies in the country.

Before that however 'unity' there was yet another area that Fergus became very much involved - coaching. Around 1963, he began floating the idea of National coaching sessions. When in Killarney, that year, he called into the Franciscan Friary. There Fergus spoke to the Headmaster of Gormanstown College, in the expectation of securing the track at the College for a coaching course, and he was successful! In all some 35 athletes turned up to the College, over the New Year weekend, 1963/1964. Athletes from the NACAI, the AAUE and the NIAAA were present, it was a first in more ways than one! Maeve and Sean Kyle were among the cross-border visitors. The following Easter there were no less than 90 athletes present, and a year later, some 300. It was still to be christened the 'Bears Club', but this double meeting for coaching - at New Year and Easter, was a success right from the start.

Over the years, the likes of John Cooper, David Watson, Mike Rawson and Roger Jenkins came to coach, in addition to all the top Irish coaches. The best available coaches were summoned, and gave their advice and passed on their expertise to the assembled throng. On one occasion, the legendary Arthur Lydiard was being summoned to Gormanstown, but an outbreak of 'foot & mouth' ensured that this coup was not quite carried off. Yet this did not distract from what was now equally as enjoyable a weekend as it was instructive.

When with the UCC athletic club, Fergus was among those who revived the club's vice-presidency list. Former club athletes were asked to attend club committee meetings, the Inter-Faculties and, of course, the Inter-Varsities, as officials or guests. These included John 0 Jagoe, and yet another aspect of Fergus' athletics career followed. It was John who asked Fergus to be involved in the Cork City Sports.

As secretary of the Sports' Committee, Fergus had much work to do. This was at a time when BLE was being born, with all the many ramifications that that involved. There was much liaison with Brendan Foreman, the international secretary of BLE, over athletes coming from abroad to participate in the City Sports. His involvement in the City Sports lasted the decade, with the sports taking on new dimensions annually.

Fergus - although 'officially' retired from athletics - remains very much in contact with the sport. His contribution to the sport could only be adequately covered through a book devoted to him alone. When called upon for advice, assistance, or, indeed, just a talk on athletics, he will readily converse. His athletics library is second to none, and his video library bears testament to a lifetime in athletics


Related Articles

Fr. Liam kelleher, at the Rio Olympics closing ceemony, 2016


Fr LIAM KELLEHER, a native of Donoughmore, and presently a curate at Inch, Killeagh, is currently in his 23rd year actively involved in the sport at every level, and his posting, as Irish team manager, to the this year's World Championships is regarded by him as the highest honour he has received in the sport to date. Previously, he managed the Irish team at the European Junior Championships, in Birmingham, where Barry Walshe captured a bronze medal in the Decathlon, in 1987. He also managed the Irish team at the World Junior Championships, at Sudbury, in Canada, in 1988.

Fr Liam's athletic involvement commenced in his native Donoughmore in the 'sixties', when he acted as an official at the renowned Open Sports. His first foray into the competition arena at local level saw him win his first race, the 100m, at the local sports, and that was just a few weeks after his Ordination, in 1968. Incidentally, he celebrated the Silver Jubilee of his Ordination at St Lachteen's Church, Donoughmore in June.

For the next year and a half he had no involvement in athletics at his first parish, Treforest, Pontypridd in South Wales. On his return to Midleton in 1970, he had his first encounter with the sport in July. he had been out fishing in Cork Harbour with a priest who was on a visit home from Australia; they caught a huge quantity of mackerel and on his way home, passing the local playing field, he decided to run off races for the prized fish. Soon the 100 mackerel had disappeared, and he himself was hooked. He joined the local Midleton AC, and got huge numbers involved. In the first season of his involvement, the club captured numerous County and Munster medals, and an incredible 75 All-Ireland medals. One of the athletes already in the club, who incidentally finished second in the County under 16 Cross-country that year, was Liam O'Brien. Liam went on the following year to win the first ever juvenile steeplechase event run at All-Ireland level. Since then, his exploits at the event are legendary, having won 10 National senior steeplechase titles. In addition to representing Ireland at School level, Liam went on to the 1984 Olympics at Los Angeles, where he reached the semi-final. Liam, now in the twilight of a great career, is running as well as ever. Other athletes of that Midleton era that readily spring to mind are the Hartnett family, Linda Barrett, who won several National Juvenile titles, as well as finishing second in the AAA's 1,500m, Elizabeth O'Brien - a European Schools Cross-country Champion, and current squash star, Joe Brice, Aghada former National discus record holder, Mary Fenton - BL0E overall National Sports Star, and sister of John, who was no mean athlete himself, Fred O'Lomasney and Richard Quirke - two cross-country stars. The Fleming sisters, Mary and Noreen, were brilliant athletes, with Mary having the distinction of winning 7 All-Ireland medals on the same weekend, as well as winning National senior and schools' titles. Most of the Midleton hurling team that won the All-Ireland Club title were introduced to sport by Fr Liam, and have All-Ireland medals for cross-country. John Boylan, who teaches at Tallow NS, won 11 All-Ireland medals and was a high jumper. The Midleton connection lasted 7 years, and, during Fr Liam's Coaching period, the Club won in excess of 500 All-Ireland and 29 European Schools medals. Fr Liam organised many major road and track events, but the most famous was the meeting on the 7th of the 7th '77, which included Olympic Champion Steve Ovett, and World Champions Eamon Coughlan and John Treacy. He also undertook major tours to Donegal, and to Scotland, and there was much sadness when he was transferred from the town, in September 1977, to the small village of Tullylease, on the Limerick border, some two miles from Dromcollogher.

Its hard to keep a good man down, and Fr Kelleher was back to his first love - sport - in a matter of weeks. He threw in his lot with the nearby Dromcollogher AC, and joined forces with Christy Brosnan. It came as no surprise that, within 2 months, athletes under their care went on win the first 4 races on the programme, for under 11 and 13 boys and girls, at the Munster Championships, these athletes went on to win numerous Irish titles, and set records with regularity. One of the athletes to emerge from this group was Barbara Johnson, who won the Irish Senior pentathlon, the last to be held, as a 17 year old. Barbara went on to win many Irish titles, at long jump and 400 metres hurdles, and represented Ireland In that event at the Seoul Olympics.

Not content with that much, Fr Liam was instrumental in purchasing a 5 acre field in the village of Tullylease, which had just 39 pupils at the local National School. Within a few months, the field was developed into one of the first all-weather tracks in the country, outside Dublin. As well as housing an open air concert, Olympic Champions, John Walker and Steve Ovett as well as World Champions, Eamonn Coghlan, Frank O'Mara and John Treacy, made the village a household name all over the country, and world wide, through running on the track. That same year, he was transferred to nearby Dromina, in June 1982, and a new era began.

The athletic career in Dromina became famous for two reasons - the Dromina 10 mile road race, which rivalled Ballycotton in prestige, popularity and organisation, and, secondly, the formation of North Cork AC, which produced many National Champions, and at least 15 International athletes, and 9 athletes who secured athletic scholarships to the US.

Anita Philpott was a juvenile star, winning many Irish titles. There was a lull in her career, after she was stricken by injury, while on schlorship in the US. There, she won the US Junior Cross-country title, in her first year, and finished 5th in the European Junior Championship, in Birmingham, over 3,00m event. Recently, she has made a comeback, finishing a very crediable 4th in the Cork City Sports 3,000 metres, and showed great form in winning the BLE Senior 1,500m title with ease. Kieran Stack was another star in the steeplechase, as were Garrert Barry and Geoffrey Sheehan, who all went to the 'States', as did Cormac O'Riordan, Brien Stack, Ger Twomey and John Murray, who had the distinction of winning the under 16 and 17 All-Ireland cross-country Championships in the same year. During that period, he was elected to the Management Committee of BLE, and was National PRO for a year.

In January 1984, he took over as Editor of MARATHON Magazine, from Padraig Griffin. Since 1984, the number of annual issues have been reduced, with greater emphasis on the Annuals; here all national events are covered, and major Games like the Olympics, World and European Championships have been given excellent written, and even more excellent photographic coverage. Fr Liam's first major athletics meet was at Montreal, in 1967, and was the fixture, Americas Vs Europe. This was part part of 'Expo 67', and there he saw the legendary Bob Beamon in action. Since then, he has attended 5 Olympic Games, 7 World cross-country Championships, 4 European Championships, and all the World Championships - Helsinki in '83, Rome in '87 and Tokyo in '91. He had also planned to go to the Moscow Olympics, in 1980, but pulled out at the last minute, fearing trouble. He did go back to Moscow, in 1991, on his way to Tokyo, and duly arrived on the day of the attempted coup that changed the face of the Soviet Union.

The latest chapter began when Fr Liam was transferred, in June 1988, back to east Cork again - this time to Inch, in the parish of Killeagh. Here again he returned to his former club Midleton, and to the senior club of East Cork. He was back with many of the athletes he had coached as juveniles, including Liam O'Brien, Jerry Wallace and Bryan Meade. Midleton were quickly established, by November of 1989, as the best cross-country club in Munster, powered by many new recruits from Killeagh and district.

A conflict of interest, between his role with East Cork and Midleton, led to the formation of Glenbower AC, three years ago. The club now boasts of 200 juveniles, and has had a phenomenal rate of success, both at track and field and cross-country. During the last cross-country season, the club finished tops in East Cork and Munster, and second in Ireland, having the distinction of taking the top 3 places in the under 12 All-Ireland event, through Siobhan Ahern, Caroline Daly and Annette Leahy. Terri Hennessy won the under 14 individual All-Ireland title in cross-country, to add to the under 13 title of the year before. Angela Murphy, winner of the national Junior 800m title this year, with East Cork, came through the club system and leaves to take up a US Athletics Schlorship.

The most recent track and field season has been simply brilliant. At County level, the club captured 210 medals, and there were 95 Munster and 53 All-Ireland medals. The highlight was winning the County, Munster and All-Ireland under 11 boys and girls and under 12 girls team titles. One athlete in particular deserves special mention; Dermot Sheehan has won 10 All-Ireland medals during the current season - 4 gold indoor and 2 gold, 3 silver and a bronze outdoor, in the under 14 age group. Another National multi-medal winner Maria Hennessy in the under 13 age group. Maria took a gold and a silver individual at the All-Ireland indoor and 2 golds, hurdles and High Jump, as well as bronze in the outdoor National Championships.

The club added a new dimension to its activities, by hosting 33 German athletes during the month of July, and plan a return visit to Germany next year. Fr. Liam also established a newspaper in East Cork, some four and a half years ago, which is thriving. He is currently a member of the Management Committee of BLE. In a word, his commitment is total, and hopefully the team he manages at the World Championships in Stuttgart will do Ireland proud.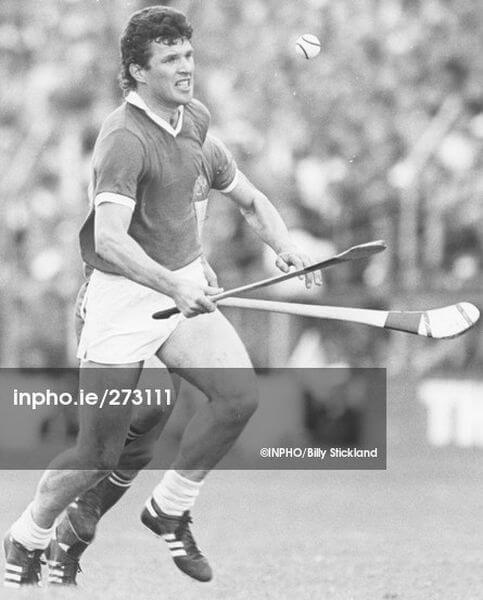 John Hartnett in action for Cork, in 1984 Centenary Cup Final - Photo: INPHO/Billy Strickland
At the age of twelve, JOHN HARTNETT was pole vaulting in the back of the family garden. One day after training in the local Convent grounds Fr Kelleher, his coach, brought along a vintage metal vaulting pole. At the time, John was All-Ireland Champion in the shot putt under 11 and 12. But, during a break in training for the shot, John dug a hole under the high jump stand, and so began his vaulting career. That day he finished up clearing 1.78 metres. Fr Kelleher was impressed.
Five weeks after first handling a pole, John entered the Munster competition, during which he knocked the bar at the first two attempts. Then a lad from Cobh, Jer McLoughlin told him to move back his mark a foot. He sailed over and went on to win the competition! It was Gerard who gave John his first fibre-glass pole, which held no fears for John. Unfortunately Gerard was to be killed tragically in a road accident some years later.
In junior competition, John was never mastered in the pole vault. 1978 was his best year. He won the 'vault' at the European Student Games, the British Student Games, the Irish Colleges, the National junior title and the Tailtean Games. For good measure, there was also an All-Ireland Minor hurling medal with Cork!
A year earlier, John won the pole vault, at the National Junior Championships, as well as the All-Ireland Colleges, and Tailteann Games. The National junior title was regained in 1979, and John won it again the following year. There was also the European Youth Championship gold medal in 1978, and, at National senior level, John won two pole vault titles - in 1981 and 1982.
Like all good pole vaulters, John proved to be an all round athlete and, not surprisingly, he made several forays into the
area of the decathlon. He was second in the Youth AAA Championships, in 1978, and won the under 21 National decathlon in 1980. That same year, he broke the County decathlon record, amassing a grand total of no less than 6,012 points. A
clearance in the pole vault of 4.15 metres was among the highlights which helped towards that total.
His best in the ten eventer stands at 6,250 points. With a vault best of 4.45 metres, John still ranks among the best ever in this country. Yet one should not disregard some of his other performances, as he was a capable high jumper, with a best of 1.95 metres, had a javelin best of fifty metres, and was capable of running close to the fifty second mark for the quarter.


GARRET BARRY

Another to benefit from Fr Liam Kelleher's tutelage is GARRET BARRY. Having started running at the relatively 'late' age of 17, it was hard to imagine that he would be in New York, three years later. IONA COLLEGE was a great college to attend, and there were many 'ups and downs' over the four years spent there. Among the 'ups' was the winning the Olympic Invitational, at the Meadowlands New Jersey, and catching a cold having been out late celebrating a College record!

Then there was missing the Championship races, and receiving a word or two from coach, Mick Byrne! Other memories include travelling to Knoxville in Tennessee, waiting four hours, for a conection to North Carolina; meeting Sonia, Gerry O'Reilly, Frank, Marcus, at the 'Penn Relays' was something special. Another great memory was training with Eamonn Coghlan, at our board track at IONA, having pushed off a foot of snow!.

Towards the end of the scholarship, Garret reached a burn-out stage, that resulted in a three year lay off. It was Teresa Sweeney, his fiancee, who got Garret back on the athletics road. He began jogging with her in July, 1991. Five minutes initially, and, since then, the progress has been unheard of. Twelve months later, National Champion indoors and outdoors - being the first person to hold National indoor and outdoor titles simultaneously. Munster records - indoors and outdoors, competing at the European Relay, where among others was Steve Cram. The ultimate highlights are the Cork City Sports and National Championships over the past two years.. Among his views, are that the National Championships should have more 'clout' - the first 3 across the line should represent Ireland. It is great to see Garret back again on the track, and no doubt he will be one to watch for in the future as he could well fulfil the potential he undoubtedly has.
It was way back in 1949 that TED MURRAY began his athletic involvement. This was through competition over the cross-country courses of the county. Over the subsequent years, he competed with Ballineen, Dohenys, Meelin, and the Rising Sun clubs. During his competitive years he won many county Championship medals at various grades competing in the colours mainly of the Rising Sun club.


Ted Murray, front centre, with Rising Sun AC team - 1958 Cork Senior Cross-Country Champions

By the time he retired from active competition, in 1964, he was living in the city. Shortly after, the Togher Athletic Club was formed and Ted was a founding member. He was the club's first secretary - a post held until 1982!
With the formation of BLOE, he was elected onto the County Board, as secretary. His administrative career continued to ascend, for shortly afterwards he was elected treasurer of the County BLE Board, a post he already held with the County BLOE Board.

In 1981, Ted decided to step down as County Board BLOE treasurer - a post he had held from 1972, and in which time he served under no less than five chairmen. In this time he served with no less than six secretaries!
He began his career in starting in 1974 - a position he still retains. He remains among the more respected starters in the country, having quite literally more experience than can really be imagined. His quite nature belies a presence which he commands at the starting line of any race, be it juvenile or senior. As such, he is well respected and liked by those under whom he has given the starting commands.

In 1975, he was elected treasurer of the senior County Board. This again was a position that Ted held for many a year and under several chairmen. This was at a time, of course, when the BLE organization was developing into full maturity, as it entered its second decade of existence. The treasurer of any Board is of great importance in ensuring that finances are kept under careful control, and this Ted did to the extent that, for some time, he was regarded as something of an institution on the Board. His administrative career did not end when he declined to go for re-election as treasurer, as, in 1988, he was elected chairman of the Cork County BLE Board.

As ever, Ted continues to be ever present in the athletics world; he continues his great work as starter, and, when not standing in that pose, he will assist whenever and wherever required, as judge or general official in the field. He continues to attend county board meetings, and is a regular at Southern Region, and at National Congresses. For many athletic enthusiasts, Ted remains very much the starter - a very distinctive figure in his white coat and red cap.
Bill Nestor

Few people could compare their athletic involvement with BILLY NESTOR. Billy had already been involved in the sport for almost forty years when BLE was formed in 1967. In earlier years, he was among the top sprinters in the country, and was also a very capable long jumper. His tussles with all the leading sprinters of the 'thirties are well known, and, among the highlights, must surely be the silver medal he won for the National 100 yards, which was run during the half-time interval of the 1939 All-Ireland final - the 'thunder & lightning' final.

In more recent years, Billy was the County Board senior starter, and he filled that post with the dignity and care that it should entail. In many ways, he was a 'father' figure in his white coat, and enjoyed a tremendous rapport with the sprinters, with whom he could, of course, relate very much. The many tales relating to his 'starting' bear testament to the esteem that all held him in.

As an administrator, few could match his care and dedication. County Board secretary and PRO on the formation of BLE. He was to relinquish the secretarial post in the mid-'seventies, but continued on as PRO, into the 'eighties. A well respected figure that always sat on the chairman's right hand side. As PRO, he had an access to the 'local' press that few could manage.

He was as well known in his guise as 'W.A.N. ', in the EVENING ECHO, and as 'ROVER', in the SOUTHERN STAR, as he was for his many other activities. His writing not only conveyed the necessary present day arrangements and results, but also brought to life the past, as he recounted many a stirring tale from an age that was slowly departing, an age that he was part and parcel of - the 'golden age' of Irish athletics.
MARION LYONS


Marion Lyons, County Senior Cross-Country Championship, 1978

Another St Finbarr's athlete to grace the County scene for many a year, although not quite as long as Billy - yet, is MARION LYONS, or Marion Stanton, as several athletics correspondents still refer to her. In the 'seventies', Marion was among a group of International women runners at the club, and, indeed, duly collected ten 'caps' in the decade. After joining the 'Barrs, she was coached by Tom McCarthy and Fergus O'Donovan. All events were tried but she settled on middle distance.
With bests of 2:11 for the 800, and 9:16 for the 3,000, she secured many a Championship medal. In the 'eighties', Marion ran several marathons and her 2:54, in the 1988 Dublin event, remains her fastest. More recently, she has turned 'vet' and is still very much to the fore; last year there was International calling, yet again, in her new category, and no doubt much more will be heard of her in the future.
Another 'Barrs athlete of the 'seventies' to feature at National level was ELAINE KELLY. Elaine was a part of that great 'Barrs group that won almost everything the sport had to offer in Ireland. Elaine had a superb quarter time of 57.8 and as such her finishing bursts were frequently unmatched, as she won many National titles - mainly at 800 metre level.
"Group of Munster athletes pictured at Cork Airport, prior to their departure to Dusseldorf for the International Cross-Country Championships (1977). The other members of the Irish teams flew out from Dublin. Group includes Elaine Kelly, Marion Stanton, Neil Cusack, Donal Walsh, Ray Treacy and "Cork Examiner" reporter Brendan Mooney." Photo: Cork Examiner

At UCC, she was the mainspring for the club's resurgence as an athletics power, as she assisted ably in National cross-country medals, and in the winning of the Inter-Varsity track & field and cross-country Championships, at will, throughout the early to mid 'seventies.
SANDRA O'RIORDAN, of Kerry Pike, ranks among the foremost wheelchair athletes in the Country. She is a regular at athletic meets, where there are events suited to her abilities - and that remains few enough. Perhaps an area that the County Board should examine in the near future.

She recently competed in the Donoughmore seven mile road race, finishing well up in the final placings and taking the prize for the best woman wheelchair athlete. Sandra has been quite busy on the competition field abroad too.

At the the New York State Games, in Buffalo, for the physically disabled she did extremely well. She returned home with no less than six golds - the 100 metres, where she sprinted to 23 seconds, her best being 21. She completed the sprint double, by taking the 200 metres in 43 seconds - her best being 39. She won the shot with 3.79 metres - some 31 centimetres below her best. She also won the discus with 10.45 metres. There was also the 800 metres, and the slalom, which is as per the ski-ing event - in and out of markers along a specific course.

Sandra has competed now for over twelve years, and trains with the Leevale athletic club.
HELEN, KATHY and NOREEN LINEHAN


Eagle TC, Cork County League Champions 1985 - L to R: Noreen Linehan, Helen Linehan, Fidelma Kirwan, Clodagh Henehan and Kathy Linehan
Having someone like Paddy Linehan as a father surely gives one an advantage in the very competitive world of athletics. As such Helen, Kathy and Noreen have ensured that the name Linehan has been to the fore at county, regional and national level, and, over the past decade, the three have dominated women's field athletics in the province.

Helen, the eldest, was a prominent shot putter and javelin thrower, winning many a Championship medal in these two events. However, showing great all-round ability, she was also a capable race-walker, competing up to and including National level. Her younger sister, Kathy, was a first class sprinter, and high hurdler, and, again, secured many a championship medal. There were also successes in the discus for Kathleen, thus again showing good form as an all-rounder. Throughout the early and mid 'eighties' both were a regular force at sports meetings, throughout the county and beyond.

Noreen, the youngest of the trio, is yet another all-rounder with a particular liking for the hammer, an event which is gradually claiming its rightful place in women's athletics. It was in multi-events that Noreen first came to prominence at National level, back in the mid-'eighties'.

In 1986, she won the National junior heptathlon. She is still capable of long jumping five metres, and has a quick turn of speed. This jumping and sprinting ability is very evident in her hammer throwing, as she relies more on technique and speed than on strength or weight to secure the distances she does.

At the inaugural running of the National women's hammer Noreen took the bronze medal, a placing she repeated the following year, in 1988. There was gold in that event, in 1989, and successive silver medals in 1990 and 1991. Last year she could only place fourth, yet that performance surely ranks among her best as she was laid low with illness for much of the preceeding season.

At Regional level Noreen has won all the women's hammer titles that have been held; from the very first in 1988 to this year, 1993, inclusive. This surely must rank as something of a record - to have won six Southern Region titles in a row. This Summer Noreen won her first International 'cap' when competing in the hammer at the Cork City Sports - the first time that the event carried International representative honours, and it was only fitting that Noreen should be among the first to represent her country in the event.
PATSY COFFEY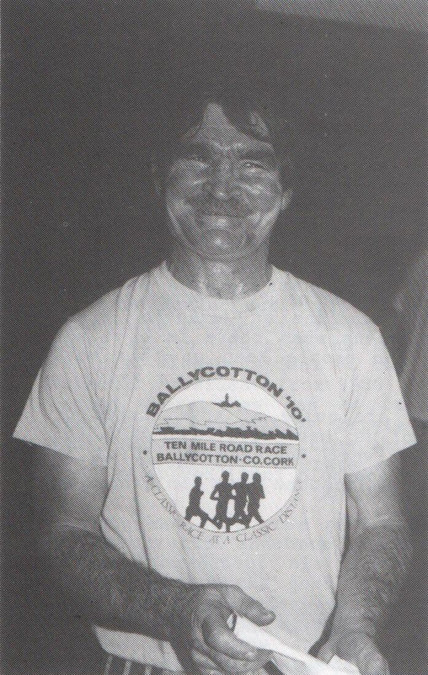 Patsy Coffey


When PATSY COFFEY crossed the line in the 1992 Dublin marathon, in a time of 3:48:51, it was the realisation of a dream - because, in his own words, he "never taught he would see the day he would run the 26 mile marathon".

Now living in Cork City, Patsy was not given much of a start in life in native Kerry, spending some time in an orphanage, before working on a farm at 13. He had very little opportunities to partake in sports, until in his 'thirties, when he started running. One of his first events was a sponsored run for the third world, and he also took part in the Simon run in Dublin. In 1990, he completed the Ballycotton '10' for the first time in 80:37, and has run it every year since, bringing his best time down to 74:28. In his build-up to the Dublin marathon last year, Patsy was a regular at most of the races in the Cork area, such as the Belgooly '10', the Cork half-marathon, and the 15 mile Cork-Cobh, as well as many shorter events.

A feature of his running is that he likes to have some charity benefit from his efforts, and, as he says he "gets more of a kick out of it" when he helps someone else. This was evident in the marathon, when he raised a considerable sum for famine relief, and even got his own T-shirt printed with the slogan, 'Please help Somalia to live again'.

Patsy wants to prove what running can do for a person, and one of the greatest benefits he himself has gained has been the number of friends he has made through the sport. It gives him something to look forward to, helps him "stay off the drink (and the fags)", and has added a new dimension to his life.

He is aiming again for Dublin in October, and has spent the summer partaking in events such as the Ballycotton 5 mile Series. He relishes the marathon distance, because, as he says "the longer the race the better I get". He has certainly come a long way himself, in such a short time, and looks forward to many more races on the marathon and road running circuit.

Patsy Coffey died in 2017. May he rest in peace.

Brother JOHN DOOLEY
The finish to the 1,500 metre final at the 1972 National Champion-ships: John Dooley (DCH) holds off Olympian Mike Keogh of Midleton to take the gold medal
Brother JOHN DOOLEY is among the most respected coaches in Ireland at the present. His commitment and dedication to those he coaches, and the advice he will offer to those who seek it, are certainly second to none. Brother Dooley has already enjoyed quite a lengthy life in the sport, both as an active athlete, and, in more recent times, as a successful coach.
He was an outstanding athlete in the early 'seventies'. At the National Championships, in Banteer, in 1972, he won the 1,500 metre title in splendid fashion. With several athletes chasing Olympic Qualification standards this Championship remains among the most exciting on memory, and Brother Dooley's stirring run in that 1,500 remains very vivid in the memory of those who were fortunate enough to have been present on the day.


There was also an exciting tussle in the mile, at the Cork City Sports, where the genial DCH man took on European silver medallist, Frank Murphy, for that mile Championship of Ireland. Noel Carroll too was beaten by the Nenagh born Christian
Brother - this time over 1,000 yards, at the Iveagh Grounds.

His competitive athletics ended in 1973, due to acute tendonitis, which forced him to retire from running. However this strengthened his commitment to coaching, an aspect of the sport in which he has, over the years, gained widespread respect. There have been individual and team honours for Crumlin CBS, Tralee CBS and Colaiste Eanna, as a result of his presence in all three. Among the top class athletes he has coached are Ray Flynn - Olympian and National record holder, and Enda FitzPatrick the current National steeplechase champion.

He has been team manager to the Irish Schools' international athletics teams through the 'seventies and 'eighties', and has lectured and been coach at numerous BLOE, BLE and NCC seminars and conferences.

After a career break from teaching duties, to take a year-long course in youth ministry, at St John's University, in New York, Brother Dooley was appointed to a teaching post in the 'North Mon' here in Cork. There, he has continued his efforts in promoting athletics, and, in particular, middle distance running. Over the years he has had many talented athletes under his care, both in the past, and, more recently, at the 'Mon'. Many an illustrious athlete has fallen under his wing, and, typical of his nature, it is best perhaps not to mention what would be a very lengthy list.
PAT WALSH
In 2016, Pat Walsh was honoured, by Cork City Sports, with their Lifetime Achievement Award
Among the better known present County Board officers is PAT WALSH. He is a member of Skibbereen AC, and has been involved at County Board level for the last decade or so. His involvement with athletics began when at school, qualifying for The Munster Colleges' 200 metres. Pat, by his own admission, was never an athlete of any great talents, but always believed in the value of competing, and has always been a great admirer of the true sporting nature of athletics; a battle against oneself, where the taking part is all important.

From 1976 to 1982, Pat competed in the many sports meetings in West Cork - Caheragh, Aughadown, Clonakilty, and many more. He feels that the fact that many of these sports meetings were held in conjunction with carnivals, always gave a prominent forum at local level for athletes to compete, and the fact that many of these meetings are no longer held in the various parishes up and down the country is one of the reasons why our sport is not growing.

From 1976 to 1980, Pat was at UCC, and has many fond memories of competing in cross-country for the 'College'. The Inter-Varsity cross-country Championships was the highlight of those times, because of the "away" events at other Universities, Galway, Dublin, and a particularly historic weekend in Belfast, in 1979. During his time with UCC, Pat became the County Board representative for the 'College', and, indeed, had a foretaste of Board duties, when for three of these years he was the organizer of transport for Inter-Varsity cross-country events and Congress each year. He laughs when he remembers that, on one curriculum vitae, he listed himself as "Transport Manager" with the County Board, and was questioned, at the subsequent interview, if he could supply some free tickets to the interview board!

Pat's performances in races lacked the necessary talent for winning, so competing was always his priority. He remembers a number of his better performances in 1977, when he won a County intermediate team medal with UCC, and in the same year won the West Cork 1,500 metres from Sean and Paul Harte.

From 1980 to 1985, Pat worked in Dublin and competed in many BHAA races there. He took up marathon running, and, in 1981, he ran the Dublin City marathon for the first time. He went on to run and complete six altogether, his best performance being at the 1985 Dublin city marathon, when he completed the race in 2 hours 56 minutes, thus achieving his personal goal of beating that 3 hours barrier.

In 1985, Pat returned to work in Cork, and immediately became involved in the administrative side of athletics. He became vice-chairman of the County Board, until 1989, when he became treasurer, a position which he still occupies. The financial position of the board has improved over that time, thanks in the main to the support from sponsors like the EVENING ECHO, BUCKLER, KEANE'S, BURGERLAND, and such like.

Pat feels that Cork has continued to maintain its strength in cross-country running, being perhaps the premier county in Ireland in team events. The standard of junior cross-country in Cork has been exceptional, with such talent as Mark Carroll, John Murray, David Healy and Darren Keenan, very much to the fore. However he is unhappy with the track and field standards, and the support from athletes in Cork in recent years. There is huge scope for improvement here, but wonders what the Board is doing wrong, if anything, as the number competing in track and field are becoming less annually.

Of course the major event of the year for Pat is the EVENING ECHO Ladies' mini-marathon. Since 1989, he has been the main organizer of this major event on the County Board calender. The 1992 event reached an all time high of 2,200 entries, each of which receive their individual results. Here his wife, Marie, is constantly assisting with the background work - the typing of entries and finishing places, amidst a host of other very necessary activity. Without her support, he feels he would find his involvement in athletics very much curtailed

Related Article
Pat Walsh Honoured with Cork City Sports Lifetime Achievement Award 2016

REGGIE HAYES



Another very prominent athletics administrator is REGGIE HAYES, the well known St Finbarrs' man. Reggie became involved in the sport around 1968, when he finished 'College' and started teaching, becoming involved in St Finbarrs AC. His running achievements were anything but spectacular. Essentially he filled in on most teams in cross-country, road and a very small bit of track. He enjoyed road, and particularly marathon running when it was not popular, but obviously his great interest was in the administration side.

He drifted in as a committee member of St Finbarrs' around 1970, and then, in turn, became treasurer, secretary, and, ultimately, chairman of the club. He had the honour of being President of the club during the period when the clubhouse adjacent the Lough was built.

His involvement at National level also came about by chance, in that, during his early days in St Finbarrs, he went as a delegate of the club to many a County Board meeting, coming under the wing of John O'Connell. These were stormy periods at meetings, and Reggie eventually was elected chairman in 1978. He served in this post until 1984. He was responsible for getting the first major sponsorship for county athletics from THREE STRIPE (ADIDAS), and this put the County Board on a good financial footing for the period. They were responsible for the introduction of the 'City marathon' (Easter Mondays) and there was also great cooperation from local radio. He was also instrumental in starting the EVENING ECHO Ladies' mini-marathon, and, in addition, a coaching structure for the county was initiated.

In 1984, he became PRO for the Munster Council, as, again, he attended many council meetings, and the natural progression was onto the National management committee. Here there was time spent on senior activities, junior activities, development, and then on to management during his period at local level, and gave these up to function as chairman of the board. He became National vice-president of the association in 1985, and finally National President from 1986 to 1989. This again was a stormy period, where they had to tackle issues of trust funds and similar. At this time Reggie also signed an agreement with NACAI, and designed a forum which allowed for the appointment of a CEO. Time will dictate as to whether his period in all of these offices were successful or not.

Looking back over the period, many changes have come about in the association, and here Reggie has strong beliefs. As a former National President, his views should be taken seriously and acted upon, for the good of the sport. Looking back on twenty five years, one wonders what the next quarter century will have in store; developments in one form or another derive from actions taken now, and, of course, the intention is that a fiftieth anniversary book will be published LOOKING BACK on those years. As for the moment, Reggie has views on a number of topics which will no doubt have to be tackled in the coming months and years.

Five main issues are herewith analysed -

(1) The development of the professional athlete;
while this was a natural progression from the 'sham amateurism', it has caused quite a few problems for the association. They themselves, as an association, do not seem to know or comprehend what is wanted from our athletes. We are genuinely not able to look after them as we should, and so they are left to "agents". On the other hand, some of our athletes show scant regard for the association. They obviously have opinions of their own, but both sides must sit down and develop the sport.

(2) The scholarship scheme;
At juvenile level, we seem to drive the athletes too much to secure scholarships, and we really do not examine where we are going. How many have really benefited from it, or has it just being used for a job? How many are fit to compete for Ireland during the summer period? Have we alternatives, and, if so, can we extend or develop a scheme for Ireland using facilities here and in Britain.

(3) The super club;
Is it a good thing, or is it destroying the spirit of the sport and the association? How do we harness the spirit of the local clubs?

(4) Coaching;
We have developed a good coaching structure for the country, and this is obviously essential, with qualifications for EC countries to be standardised. However, if we now have all these coaches, where are all the athletes. Have we seen major improvements in our standards? How many of our coaches are now coaching in other sports?

(5) One 'job' for one person;
We have, at present people, who hold anything up to three or four positions at National level, with further at juvenile level. While this is very fine, what happens when there is a clash? Where does the alligence lie? Can people keep up this work rate?

Overall, Reggie feels that there are quite a large number of questions to be answered by all of us; have we a major plan for the next ten years, and, if not, why? How are we going to encourage athletes into the sport and hold them? How do we seek "press support" for our development plan.

All very pertinent questions.