Mallow 10

12:30 pm, Sunday March 20th 2016

Organised and hosted by

Mallow AC

This event is run under an Athletics Ireland permit/licence

The course was measured by John Holland (Mallow AC), Athletics Ireland National Grade Measurer

Mallow AC Website
Mallow AC Facebook Page - Closed Group

Mallow 10 Mile Road Race Website
Mallow 10 Mile Road Race Facebook Page

Cork Athletics Homepage

Cork Athletics Facebook page
Cork Athletics Fixtures List
Results of AAI Registered Events
Event Details
General information
on
Mallow 10 Race
website
NB: Entries for this event have CLOSED
Access & Parking:
Race HQ is at Mallow Youth Centre, There will be signs on all roads into Mallow

The Race
The race will start at 12:30 sharp

, do not be late.
The race will be using chip Timing. The chip is attached to your number.
You do not need to hand back yout number after the race.



Your race number should always be worn on the front

, on your singlet/t-shirt, not on your shorts. This will facilitate the reading of the chip at the finish line thus giving you an accurate time.



Under no circumstances may you transfer your race number

.
If this occurs you will be denied entry in the future.

Pacers
Pacers at 5 minutes intervals, from 60 minutes to 90 minutes
2 Water Stations (bottles) on the course (3.5miles and 7 miles aprox)
Water/Chocolate at finish

Please proceed immediately through the finish chute where you will receive your 'goody bag' (including your race buff)

Prizes
Top 5 and First three in all categories

Race Start
Starting Corral
When you arrive to the race start, you will see the starting corral. The corral will be quite long, so please find your appropriate area in the corral. There will be a team of stewards at the start area who will be more then happy to help you find your corral position. There will also be signs along the corral, with estimated finish times. Remember that your pacers will also be in the starting corral. Look out for the balloons. This should give you an indication of where you should position yourself.



Smart Start



It is for the benefit of everybody if you follow the times indicated. It gets very busy once the clock starts, and it can have an effect on everybody's times if you are in the wrong zone. If you are targeting a Sub 85 run, then it could hinder you, if you are up at the sub 65 section. Nobody likes to start a race with people running up their back. If you locate yourself in the 85-minute section, then you are running with like-minded people who will all help you achieve your goal.




Start Location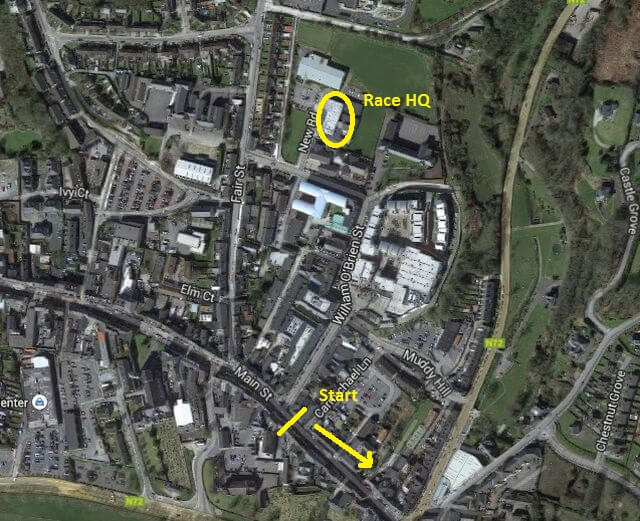 Race Finish Location

Route Back to Youth Centre

Route
Route on MapMyRun
Route Elevation Profile