Bantry Bay 5k 'Bunny Run'

11:00am, Monday March 28th 2016
This event is in aid of St Finbarr's Boys National School, in association with
Bantry AC
This Fun Run is run under an Athletics Ireland permit/licence
Location
Race Info (from Bantry Bay 5k 'Bunny Run' Facebook page)
Bantry Bay 'Bunny Run' 2016


The fun run will take place on Easter Monday, March 28th, at 11am. Registration from 10:00am, in the ESB carpark, Wolfe Tone Square. The run will be self-timed, and is a perfect opportunity to fit in some extra training before any competitive races. This event is a fun run for all persons and all abilities; runners, walkers and children. The Run will begin in Bantry town and continue along the scenic edge of Bantry Bay to the Westlodge Hotel and back again.

Start & Finish:
Start and finish lines are adjacent to Bantry Pier

Route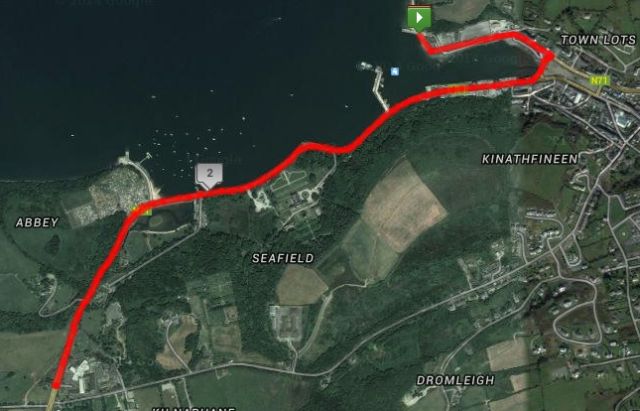 NB: This course map is approximate.

Elevation

Bantry Bay 5k 'Bunny Run' Start / Finish

The Start & Finish are close to the Pier



On the outward section, take the short route around the Square, against the normal traffic direction. The route is the same on the return, but in the same directions as normal traffic flow.


Heading out of town, past the graveyard.


Turnaround is outside the Westlodge Hotel. Turn point in photo is approximate.