Irish Independent A Lust For Life Runway 5k 2015
Cork Airport
, 00:30am, Sunday November 22nd 2015

This event is run under an Athletics Ireland permit/licence



Organised and hosted by Athletics Ireland, in conjunction with Irish Independent



This course was measured by John Quigley, AIMS/IAAF International Grade 'B' Measurer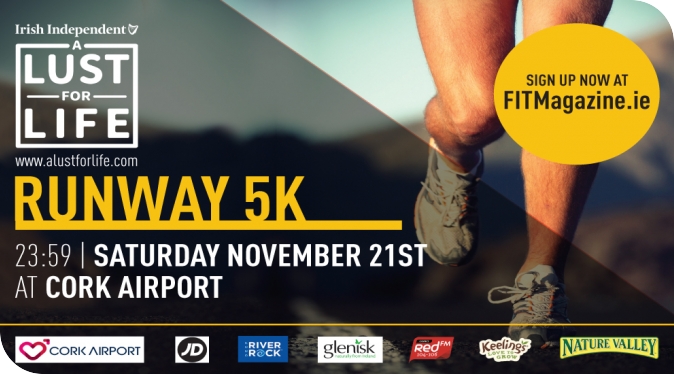 THIS EVENT IS SOLD OUT - ALL PLACES ARE NOW GONE
Cork Athletics Homepage
Results of AAI Registered Events
Fixtures List - Athetics Ireland Registered Events
Event Details

Fit Magazine Event Page
Fit Magazine Website
Fit Magazine Facebook page
Irish Independent website
Athletics Ireland website
Athletics Ireland Facebook page

From Fit Magazine Event Page:

"We're excited to announce a brand new event taking place down in Cork Airport. Be one of the first runners to take in Cork Airport with this exciting night run across the runway. You'll never have a running experience like this again. Our partners at Cork Airport have closed down operations for one evening to allow us to invite our A Lust For Life supporters to join us for this unique event.

This is a 5k run taking place at midnight on Saturday 21st November along Cork Airport runway. Check in at the airport terminal and take in your surroundings like you never have before.

Everyone needs a goal to run towards. Let this be your goal for 2015. Sign up for this 5k run and let's start to #RUNYOURLIFE

Why enter?
Get FIT and (most importantly) have fun
Take part in this one-of-a-kind event in Cork Airport
A top quality brand new Irish Independent A Lust For Life Technical T-Shirt.
Chip timing for accurate race results.
Athletics Ireland licensed event.
A packed race goodie bag filled to the brim with swag from our many great race partners JD Sports, Deep RiverRock, Nature Valley, Keelings, Glenisk, Red FM and more.
Entry Fee

€20 (plus booking fee)
Charity Partners
Our chosen charity partners for the event are Cork Children's Hospital and the Cork Mental Health Foundation. You can complete donations to either charity on the next page. Alternatively further information on how to raise funds for either online will be available in your confirmation email."
Cork Airport Location
Registration
Register online, on Fit Magazine event page

Irish Independent - A Lust For Life Runway 5k Route
5k Route on MapMyRun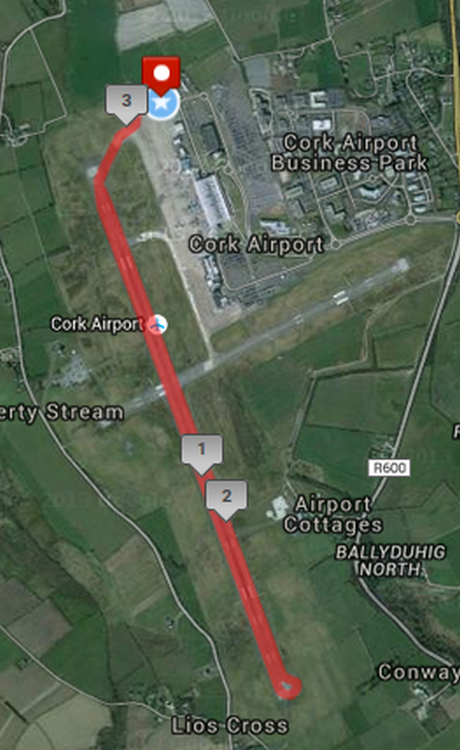 | | |
| --- | --- |
| | Blurry night time view from the western end of the runway, looking back up the course, taken during the course measurement, on Tuesday night, Sep 29th |
| View from the start of A Lust for Life Runway 5k - Cork Airport | |
| View of the Start/Finish area | View of the Turnaround Point |
5k Route Elevation Profile
The elevation profile for this course is a good illustration of the reliability of Garmin profiles - Whilst not completely flat, the course is, to all intents and purposes, it is flat- a lot flatter than the profile below.


Click on link to download PDF file (359 kb)


All Participants must pass through the Check in Area before accessing the Assembly area at Gate 18 Airside

.

The Assembly Area will be divided into sections as follows:

RUNNERS ( Under 20 min)
RUNNERS/JOGGERS( Under 25 mins)
JOGGERS (Over 25 mins)
PLEASE ENSURE THAT YOU ENTER ASSEMBLY ZONE WHICH CORRESPONDS BEST TO YOUR FITNESS LEVEL. Each corral will be escorted to the Start Area on the Runway. Please remain with group at the start line area.

BEFORE YOUR RUN:
WARM-UP
It is recommended that you commence your individual warm up approx. 45 mins before the start time. This is to allow time for access to the toilets and to get to your assembly zone in a timely manner. Your warm up should include some light jogging and stretching. It is vitally important to warm up the working muscles especially if the weather is cool. A mass warm up will be organised at 00.10am by an experienced trainer.

RUN NUMBERS/BIBS
Please print the following information clearly on the reverse of your run number/bib:
• Name and contact number In Case of Emergency
• Medical Conditions

MEDICAL
St John Ambulance will be providing medical cover for this run. If you have an on-going medical condition please make yourself known to a member of the St John Ambulance on site on the morning before the run commences. The medical centre will be located adjacent to the finish line.

WATER
There will NOT be a water station on the course. If you require water before or during the run please bring it with you. Water will be provided to each participant after you finish the run.


AFTER YOUR RUN
AT THE FINISH
After you cross the finish line please keep moving and follow the instructions of the marshals who will direct you back into the Terminal Building. All participants must go through the Check In Area on their return . You will receive your finishers pack after exiting the Check In Area.

Due to international airport security requirements all participants must return to the airport terminal and go through the Check In Area again. Failure for all participants to return will require a security search to take place so your cooperation is requested.

BAGGAGE RECOVERY
As soon as you have exited the finish system please recover your left baggage from the designated area. Remember you will need to produce your run number in order to recover your baggage.

GOODIE BAGS
There will be a goodie bag to collect after you're finished. A big thank you to Deep RiverRock, JD Sports, Glenisk, Keelings, Red FM and Nature Valley who are contributing to it. Please note that not all the items will be in the physical bag as there will be fresh produce. So keep an eye out for samplers on the evening.

T-SHIRT
Be sure to pick up your A Lust For Life t-shirt before or after the run. Sizes range from small to extra large (sizes will be given on a first come, first served basis). It is a long sleeve technical t-shirt and produced by our good partners JD Sports. If you can, try grab it beforehand as we'd love to see you all running in the name of A Lust For Life.

SPECTATORS
Only participants can access the runway via the Checkin Area. There is no provision for Spectators to access the Runway nor is there a suitable viewing area in the terminal building at night time. We therefore request that friends stay in the terminal building to await your return.

PARKING
Free Car Parking is available in the Holiday Blue Car Park. We recommend that you allow fifteen minutes to walk from the Holiday Blue Car Park to the Terminal Building Departures area .

LITTER - Water Bottles and Spare Clothing
Due to potential damage to aeroplane engines from any debris left on the runway we cannot allow any bottles, spare clothing or litter to be brought past Gate 18. Please do not attempt to bring any water bottles past this point.

THANKS
Ciaran Carton and his team at Cork Airport.
Our partners JD Sports, River Rock, Glenisk, Red FM, Keeling and Nature Valley. Bill Allen and Pat Walsh from Cork Athletics, PJ Walshe and all at St Finbarrs AC, St John Ambulance and the Gardai Traffic Corp.