Bweeng 5k & 10 Road Races 2015

Bweeng,
12:00, Sunday, September 6th 2015

This event is run under an Athletics Ireland permit/licence



Organised and hosted by Bweeng Trail Blazers AC, in association with Bweeng Community Centre

These courses were measured by John Holland, AAI National Grade Measurer

Cork Athletics Homepage

Results of AAI Registered Events
Fixtures List - Athetics Ireland Registered Events

Bweeng Trail Blazers Facebook page
Bweeng 5k & 10k Fun Run In Association With Irish Cancer Society Event Facebook page
Irish Cancer Society website


Race Flyer

Bweeng 5k & 10k Road Race Information
Bweeng Trail Blazers, in association with the Bweeng Community Centre, are organising a fun run & walk, on Sunday September 6th. All funds raised will be shared between the community centre and the Irish Cancer Society.


5k, 10k Road Race & 5k Walk
There are 3 options available on the day with a 5k walk, 5k run and a 10k run. The Entry fee for the 5k and 10k run is €10, while the fee for the 5k walk is €5.

Prizes
There will be prizes in both men's and women's categories.

Refreshment & Entertainment
A great day is guaranteed, with a DJ, Ice Cream van, Playground for kids, and plenty of refreshments after the race.

Registration/Race HQ

Race HQ is Bweeng Community Centre, on the Gloundine Road
Participants can pre-register online at https://www.eventbrite.com/d/local/bweeng/


Bweeng Community Centre Location
Bweeng Location Map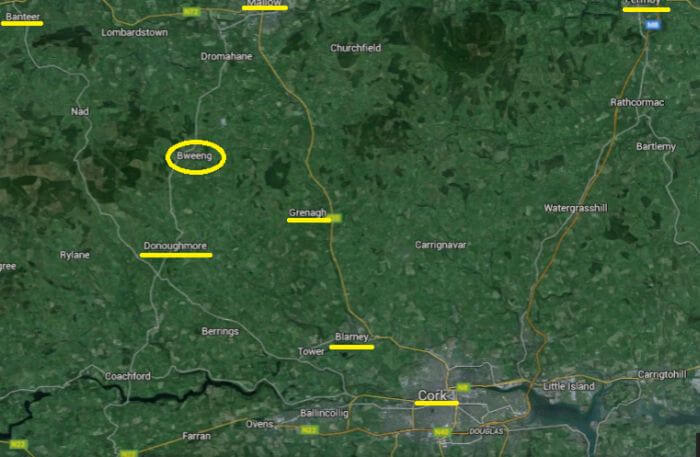 Bweeng 10k Road Race Route & Map
Both the Bweeng 5K & 10k races start approx. 500m from Race HQ. The route then heads back in the direction of the community centre, turning left, into the community centre, and completing one lap, in a clockwise direction, around the community park. After completing this lap, at the 1.2km mark, runners will turn left, and head to Bweeng Crossroads, where the route again turns left, onto the Lombardstown Road. At the 3k mark the course splits, with the 5k runners going left, at the V on the road, and the 10k runners going right.

The 10K route continues along the Lombardstown road, as far as Sean Ogs Cross (5.6K), where it turns left. Up until now, the route is a relatively flat and downhill course. After turning left, the route swings back towards Bweeng. There are some slight pulls along the next 2km, but nothing too testing. There will be a water station just after the 7k mark. At the 8.4km mark the 10s rejoins the point where the course originally split from the 5k route. There is an easy run-in to the finish, just short of the Bweeng Crossroads.

Route on Mapometer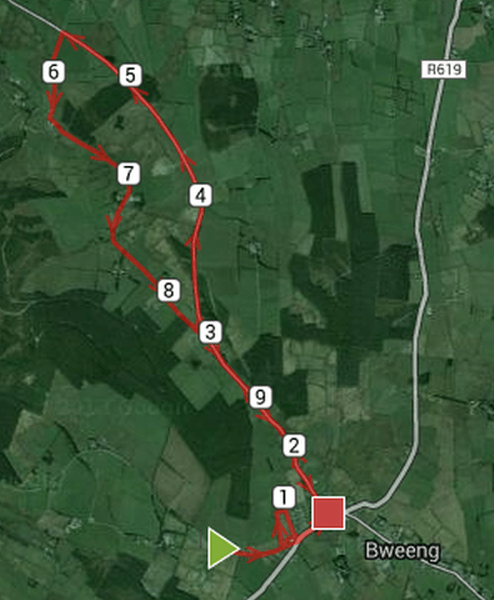 Bweeng 10k Road Race - Course Elevation Profile
Bweeng 5k Road Race Route & Map

Both the Bweeng 5K & 10k races start approx. 500m from Race HQ. The route then heads back in the direction of the community centre, turning left, into the community centre, and completing one lap, in a clockwise direction, around the community park. After completing this lap, at the 1.2km mark, runners will turn left, and head to Bweeng Crossroads, where the route again turns left, onto the Lombardstown Road. At the 3k mark the course splits, with the 5k runners going left, at the V on the road, and the 10k runners going right. The 5k runners continue on to the next junction, where they turn around and head back towards Bweeng, finishing at the outskirts of the village.

Bweeng 5k Road Race - Route on Mapometer

Bweeng 5k Road Race - Route Elevation Profile