Bay Run Half-Marathon 2015

Glengarriff to Bantry, 10:00am, Sunday May 3rd



This is an Athletics Ireland registered event, organised by Bay Run, in association with Bantry AC

This course has been measured by John Quigley, AIMS/IAAF Grade 'B' Measurer

Bay Run website.
Bantry AC website
Bantry AC Facebook page
Bantry Hospice Facebook page

Cork Athletics Homepage Cork AAI Fixtures

T&F Fixtures
Cork Athletics Facebook Page


Location
Bantry Hospice
From the Event website
Since the opening of the Hospice units at Bantry General Hospital, Bantry Hospice has provided great support and comfort to many families throughout the West Cork area. The units were specifically designed as self-contained apartments within the hospital complex to include a kitchen area and sleeping area for the family and relatives of the patient. The units also allow for discreet access through the back of the hospital at any time of the day and night rather than having to adhere to hospital hours.
In addition the Bantry Hospice Project also support the palliative care team in west Cork with:
Home care equipment

Training

Home sitting services

Night nurse support
The Bantry Hospice Project also support the Palliative Social Workers in West Cork. The Bantry Hospice Project also look at individual cases. In one situation recently a young child under the age of 10 years of age was discharged from a hospital where her left lower limb was amputated in order to slow down the progression of her illness, it was highlighted by the team in the hospital that the patient would experience tremendous relief from aromatherapy.
Unfortunately the hospital were not in a position to fund this type of service and in this particular case the Bantry Hospice Project agreed to fund a number of sessions for the patient which provided her with some relief as she dealt with her illness in a brave and dignified manner.
Start Fundraising now for the Bantry Hospice with Justgiving.com. Click Here

While the Bantry Hospice is our elected Charity, you can of course raise funds for any Charity that you prefer.
Event Website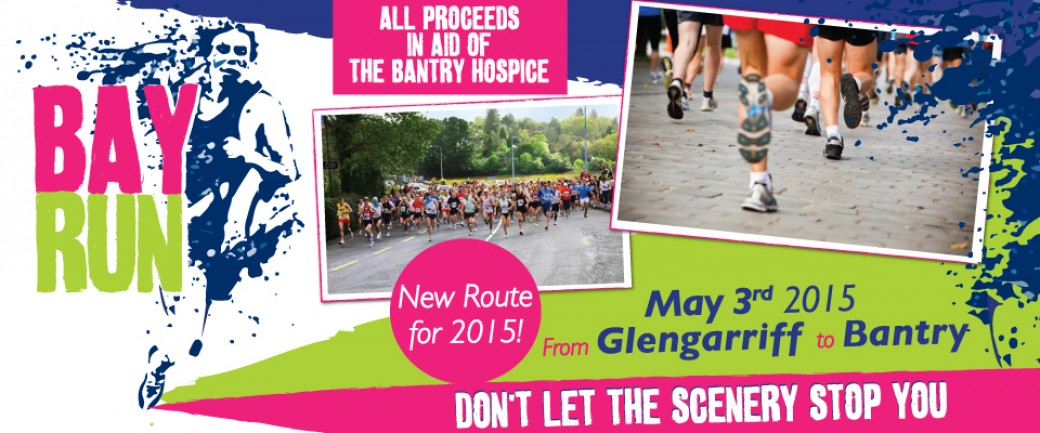 Entries
Enter via Bay Run website
Course
View Course on MapMyRun
Course Elevation Profile
Course
This year sees a new course, with a good deal of the course off the main road. Starting in Glengarriff, the first two and a half miles cover part of the old course, then turn onto a local road. After two and 3/4 miles, the course is essentially down slople, making for a fast pace. Road surface is good throughout. The long section off the main road will render much of the course essentially traffic-free, making for a safet, better quality run and experience. There is plenty of scenery along the route, with fine views of Bantry Bay, local rivers and lots of flora & fauna.

The course has been measured by John Quigley, AIMS/IAAF Grade 'B' Measurer, and is marked in miles.


View from the 3 Mile mark