Cork City Sports - Athlete of the Month Award March & April 2015 - Darragh McElhinney (March) and Leevale AC Women's Relay Team (April)







Darragh McElhinney,

Colaiste Pobail Bheanntrai and Bantry AC, recipient of the Cork City Sports Athlete of the Month award for March 2015

Carol Finn, Leevale AC, representing Leevale Womens Relay Team,

recipients of the Cork City Sports Athlete of the Month award for April 2015

The
Cork City Sports
Athlete of the Month Award is sponsored by
96FM
/
C103FM
,
The Evening Echo
and
The River Lee Hotel
Photos from Function
- on
Cork AAI Flickr account
Darragh McElhinney - Cork City Sports' Sports Star of the Month - March 2015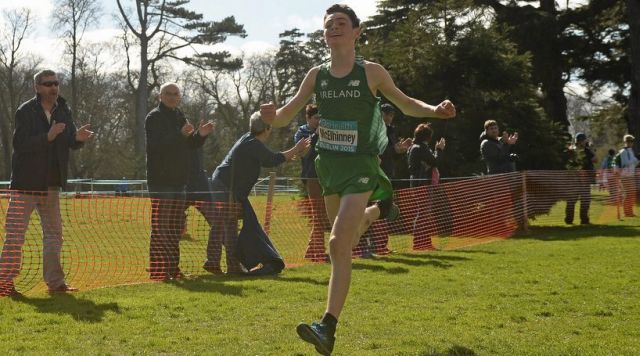 Darragh McElhinney, with members of his family


(L to R), Brid Hurley, Ciaran McElhinney, Darragh McElhinney and Breeda McElhinney, with Callum and Iarla McElhinney



Darragh McElhinney receives the award for his cross-country achievements during March. Darragh won the Junior Boys Title at the SIAB schools international cross country held in Santry Demense, Dublin, on Saturday, 21st of March. The 32 strong Irish schools team competed against athletes from England, Scotland and Wales and Darragh was the only Irish.

Two weeks prior to this, Darragh won the Junior Boys All-Ireland Schools National Championship
From the Colaiste Pobail Bheanntrai website: "Darragh McElhinney in the Junior boys 3,500mtr race, with 113 runners, Darragh got off to a fast start and led from very early on, keeping a fast pace at the head of the field. By the midway point he had built up a 15 yard lead over a chasing pack of 5 runners, and gradually extended his lead, to win by about 40 yards, to claim his first All Ireland individual Gold Medal."

From Athletics Ireland website:
"McElhinney won the junior boy's race in emphatic fashion setting a testing pace from the start of the 3,5000m contest. McElhinney was up against strong athletes from England and Wales as the leading pack headed out around the famous cross country loop in Santry Demesne. McElhinney proved the strongest as he romped to victory in a time of 12.52."

Speaking at the awards, Darragh said that he "knew it was going to he hard. The pace was fast from the start, but I pulled away in the last lap"
Coached by Maria Hurley and Michael Harrington, fourteen year old Darragh took up athletics, with Bantry AC, in 2008. The multi-talented athlete not only plays gaelic football with Glengarriff, Beara and Cork, but also finds time to play soccer with Bantry Bay Rovers!

Darragh has ambitions to win an All-Ireland championship, but concedes that it will be difficult in the foreseeable future, as he is now "moving up an age group, competing under-16. Darragh achieved a PB of 4:21, in the 1500m, last Saturday, an improvement of 2 seconds on his previous best. The focus is now on the Schools National Championships, in two weeks time.

Carol Finn with Sponsors & Officials


(L to R) Terry O'Rourke, Cork City Sports, Tony O'Connell, Cork City Sports, Eamonn Murphy, Sports Editor, Evening Echo, Elaine Fitzgerald, Marketing Manager, 96 & 103 FM, Carol Finn, member of Leevale AC Womens Relay Team, Sports Star of the Month, John Calnan & Donie Walsh, Leevale AC, and Ruairi O'Connor, General Manager, River Lee Hotel
Leevale AC Women's Relay Team - Cork City Sports' Sports Star of the Month - April 2015
Leevale Women's Relay Team of sisters Carol and Michelle Finn, and Lizzie Lee, receive the April award for their record breaking win in the Athletics Ireland National Road Relay Championships, in Raheny, Dublin. This was Leevale's second consecutive win, having won it in 2014.


From the Athletics Ireland website:
"The senior women's event turned into a battle between defending champions Leevale AC and Letterkenny AC. The formidable Cork trio of Carol Finn, Lizzie Lee and Michelle Finn were always in command as they stormed to victory in a time of 20.39 with Letterkenny second in a time of 21.08 and Crusaders third in a time of 21.37.

The two mile leg of the race was a close affair with Lee recording a time of 10.35 and Annemarie McGlynn of Letterkenny only a second slower with a time of 10.36. However Leevale athlete Michelle Finn was untouchable on the last leg as she sealed the title for the Cork club."